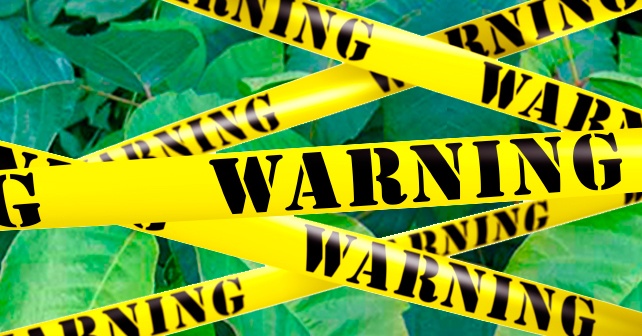 It's a beautiful day and you feel like going for a ride on your ATV, UTV or motorcycle. On the trails, along the roads and waterways or on the edge of the woods, there are sometimes toxic plants that are dangerous to our health. Poison Ivy is more common, but others are not as well known, such as Giant Hogweed. To help you identify them when you make stops during these rides, let me show in this article three toxic plants that you may come across.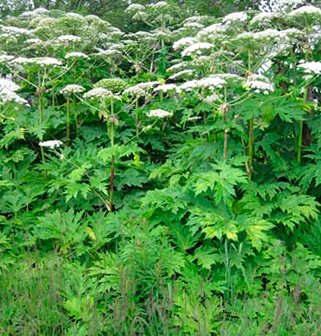 Giant Hogweed
Short story
Originating in the Caucasus, it was probably introduced to North America as an ornamental plant. It has since taken root and become widespread in many European countries, as well as Australia, New Zealand, the United States and Canada. In Quebec, it is considered to be an invasive alien plant.
Description
It can measure 2 to 5 metres high and 30 centimetres to 1 metre after mowing or cutting. Its stem is robust, covered in white hairs and raspberry red to purple spots spread out and well defined. The leaves can reach up to 1.5 metres wide by 3 metres long.
Toxic part
Its sap (a colourless, odourless liquid secreted by all parts of the plant).
Effects
Contact with the sap, followed by exposure to the sun, is odourless but can produce dermatitis up to 48 hours after exposure. This is characterized by redness of the skin and swelling, blisters, or even skin lesions at times serious resembling first or second-degree burns
Places
Disturbed wetlands (along waterways, ditches, roads, etc.).
Take note
After the wounds heal, brown or white spots can linger for many months or even years on the affected areas and they can remain sensitive to the light.
Canadian provinces where it is found
British Columbia, Ontario, Quebec, New Brunswick.
Sources
Développpement durable, Environnement, Faune et Parcs du gouvernement du Québec
Santé et services sociaux du Québec (French version only)
Espace pour la vie de Montréal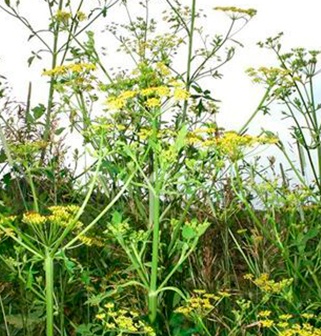 Wild Parsnip
Description
The flowers have light yellow-green umbels. The first year, the plant generally presents a low rosette of fusiform leaves while the roots are developing, and flowers in the second year on a long stem before dying.
Toxic part
Its sap
Effects
Like the Giant Hogweed, its sap contains chemical products which, on human skin, can cause reactions similar to serious burns, rashes or blisters.
Places
Disturbed environments (abandoned yards, open fields, alongside roads, etc.)
Take note
The plant's chemical composition is known to reduce weight gain and decrease fertility in cattle that eat it.
Canadian provinces where it is found
In all provinces and territories, with the exception of Nunavut.
Sources
Canadian Biodiversity Information Facility from Governement of Canada
Ministry of Natural Resources from Governement of Ontario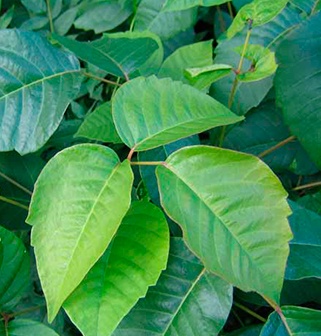 Poison Ivy
Description
A woody perennial plant with creeping, climbing or bushy glossy leaves.
Toxic part
Its sap contains a toxic resin (present in all parts of the plant, except the pollen). Any contact with a broken part of the plant, a contaminated object or an animal runs the risk of provoking a reaction. The seriousness of the reaction depends on individual sensitivity, the amount of sap in contact with the skin and exposed areas of the body.
Effects
A rash manifested by intense itching and redness. Swelling and blisters can also be seen, all usually between 24 to 48 hours after contact.
Places
River banks, clearings, the edge of the woods, along roads, etc.
Take note
Inhalation of smoke coming from burning Poison Ivy plants provokes an extremely painful eruption of the lining of the lungs which can lead to respiratory problems and even death.
Canadian provinces where it is found
In all provinces, with the exception of Newfoundland-Labrador.
Sources
Governement of Canada / Health
Espace pour la vie Montréal