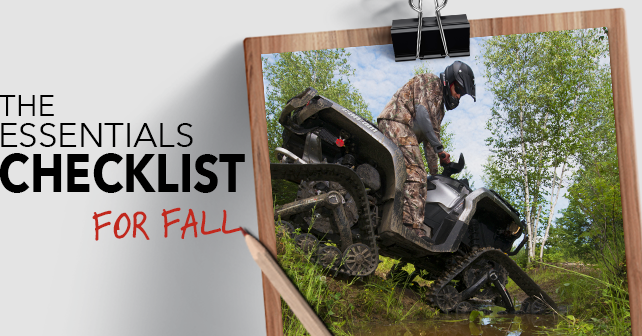 There are two types of days in the autumn, the warm and sunny days and then the cold and rainy ones. In both cases, it's the right time to go riding because we all know it, the rain does not stop the real enthusiast. What you need to know or what you need to bring is good equipment to deal with the imperceptible weather conditions.
We have made a list of items that, we think, are almost essential for rainy and cold days. We still wish you sunny and warm days to enjoy the beautiful colours of autumn.
REVELSTOKE AND WILD JACKET

The Revelstoke softshell for men and the Wild softshell for women are for us real no brainer. Soft, light and comfy, they represent the ultimate jacket to ride with. This is the ideal jacket that is not too hot or not too cold. The external layer is made of Voltez, a special material who let perspiration out and keeps humidity away from your skin.

KIMPEX GEN2 WINDSHIELD
It is important to have gear that suits your riding style, but you can always help yourself by deflecting the wind you receive. The Gen2 windshield protects you from the wind, but also, is designed to send air to each of the driver and not directly to the helmet. With the quick release system, you can install it on and off in a couple of seconds.

HEATED GRIPS
The good old heated grips, a great affordable accessory to easily warm your hands. For those who do not like to wear big mittens and want to stay in control, you cannot ride without these. Combined with your windshield that cut almost all the wind, you are good to wear the smallest gloves you find or even not at all and still be comfortable.

COMMANDER WS4 TRACKS
I'll stop you right there my friend, you can't only use your tracks on snow. They are also really useful on muddy trails, to cross over swamps and sandy ground. The Commander WS4 models were developed to maximize the driving experience and give you the best performance straight out of the box.

CKX BOOT COVER
Having feet wet is uncomfortable and enough to ruin a ride. On the other and, rain boots are not always the most comfortable. With the boot cover, you can keep your favourite boots and stay dry. Also, you can fold them and put them in your backpack or your ATV trunk. BONUS: For those who have cold feet, we have something for you, Thermacell heated insoles. You will be able to adjust the heat intensity to keep your foot warm and dry all day long.

NOMAD REAR TRUNK
We dress you a nice list of items, but you still have to put them somewhere. If you are looking for a versatile trunk, here's one, the Kimpex Nomad. In addition to offer an optimal comfort for your passenger, you can store all the equipment you need. Another great feature is the seals around the panels who keep the trunk perfectly dry and clean. It is always nice to find your personal items clean after a long ride.

That's all for our short list of our best ATV equipment to get through the autumn. Take time to find out what the best is for you and don't be shy to ask any question. We have a lot of complementary items for you on the www.kimpex.com.
Discover the latest news, events and products on the Kimpex Blog. Browse the various sections that offer interesting content for the true enthusiasts!