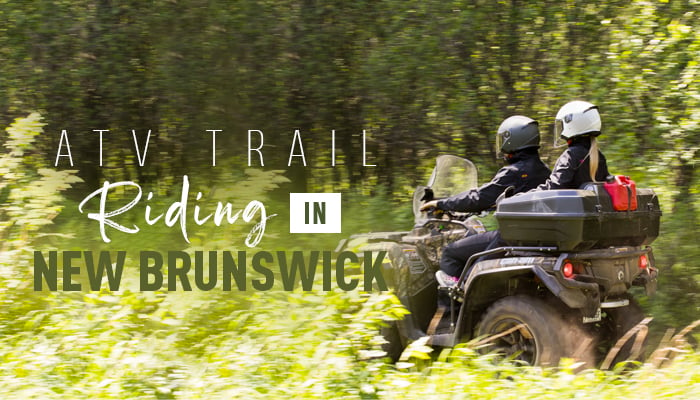 D. Irving, Limited (JDI) and the New Brunswick All-Terrain Vehicle Federation (NBATVF) have signed a historic agreement that will bring the over 22,000 members of the Federation closer to realizing a province wide trail network.

With 56 local clubs across 250 New Brunswick communities, the NBATVF has grown over the last 20 years to become the second largest all-terrain vehicle federation in Canada in terms of quantity of managed trails, membership, and trail maintenance funding. The agreement with JDI provides access to over 800 kilometers of trails on woodlands owned by J.D. Irving, Limited. This represents 18% of the total 4,400 kilometers of managed ATV trails in New Brunswick.
"Many of our employees and their families are members of NBATVF. We appreciate and share the focus that NBATVF places on safe enjoyment of NB woodlands and respect for the environment," said Robert Fawcett, Director of Corporate Relations for Irving Woodlands. "The NBATVF does a first-class job with trail maintenance and signage. This is a great opportunity for New Brunswickers to enjoy our woodlands."

Managed trails are safer for all users. Providing legal access ensures local ATV Clubs are responsible to develop and maintain these trails to a higher standard, compared to unmanaged trails. The designation of being managed, means allowing signage, maintenance, repairs and construction to be done in a safer way.
This agreement opens the dialog for both sides to provide updates on activities that may affect the other party. ''I am very pleased with this new partnership with JDI. This contributes significantly to allowing our clubs to continue their efforts building a sustainable and safe ATV trail network in New Brunswick," explains Roger Daigle, NBATVF President. "This partnership will add over 800 kilometers of ATV trails that our 22,000 club members will be able to enjoy now and in the future.

This is in addition to other partnerships we have with other private landowners and with the provincial government. Who knows, it may entice the other 27,000 registered ATV owners in the province to join our clubs in order for them to access and enjoy our managed trails legally."
"Like many people, I love exploring the natural wonders New Brunswick has to offer. It is always welcome news that partners are working together to provide all-terrain vehicles with permission and safe access to more parts of the province," said Carl Urquhart, Minister of Public Safety and Solicitor General of New Brunswick.