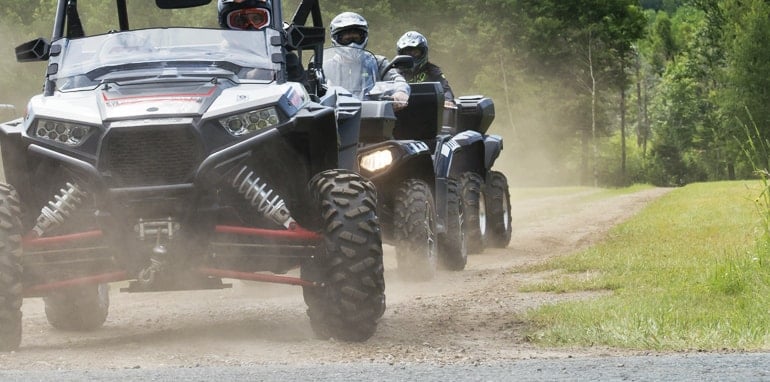 When the time comes to replace your ATV/UTV's original tires, several options are available on the market, making it sometimes difficult to find the most appropriate choice. Tires play a crucial role as they are the primary contact area with the ground. In addition to partially absorbing shocks and damping vibration, they provide the necessary grip for your ATV/UTV. In other words, comfort, driveability, traction, performance and safety are directly related to the way your tires are fitted to your vehicle. It is therefore important to choose a tire that will meet your needs.
A tire for every occasion: many categories to choose from
The most important thing to consider in the choice of a tire is its intended use. Do you like driving on rough grounds or on swampy terrains? Do you prefer sand trails and gravel trails or hard-packed and compact soils? Tires are designed based on the type of terrain or soil they will ride on.
Tires are available in many variations and in a number of hybrid versions; but in general, based on their features, tires can be classified in five main categories. While some tires have multi-purpose uses, others meet very specific needs.





Technical data: The building of a tire

There are two types of tires: bias and radial. Once again, the choice will depend on the intended use. Although the radial tire occupies almost all of the North-American market in the automotive industry, the diagonal tire offers certain advantages when driving ATVs/UTVs.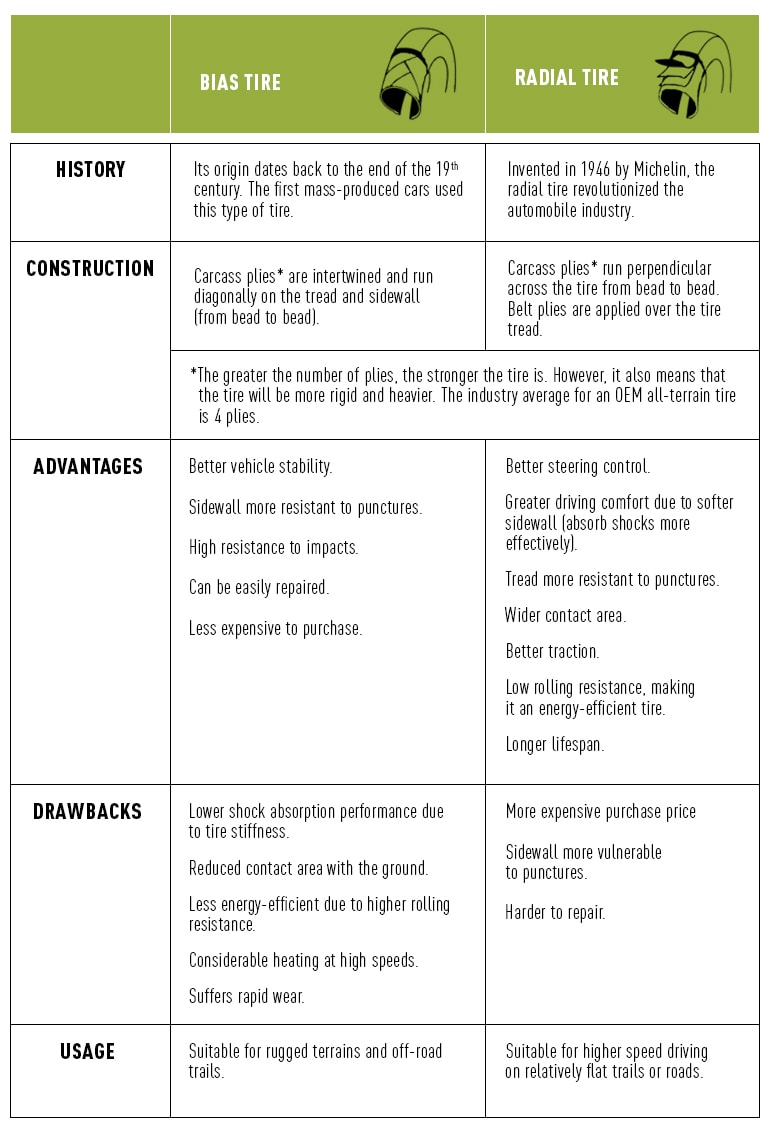 Technical data: Making sure to use the right size
ATVs/UTVs tires include three figures to describe their size. The first figure corresponds to the overall height of the tire, the second to the tire width, and the third to the rim diameter.
For example, the tire below will show the following engravings: 26 x 9 - 12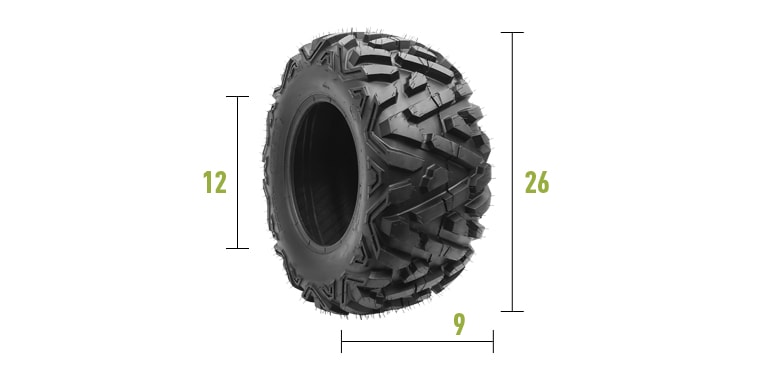 The replacement tire must comply with the recommended measurements of the original tire, especially those of the rim, which must be exactly the same. It is however possible to modify the tire width and increase its overall size by 1 or 2 inches. For a UTV vehicle, rear tires are often larger than the front tires. For an ATV with four-wheel drive, the size of all 4 tires must be increased with the same value to optimize the ATV's performance. Before purchasing a new tire, it is crucial to check the manufacturer's specifications for minimum clearance required.
To get the best results and maximum driving control, it would be preferable to replace all 4 tires at the same time, or at least, to replace them in pairs, either both front tires or both rear tires.
Well-fitted tires: Great ride!
Off-road tires, mud tires, tires for even grounds or rough terrains? 4, 6 or 8-ply tires? Radial or bias tires? There are many possibilities! For the right solution, it is best to make a choice based on the intended use. This way, you are sure to be satisfied, as a properly selected tire will increase your vehicle's performance.
As Forest Gump would say: "There's an awful lot you could tell about a person by their shoes. Where they're going. Where they've been." The same applies to your vehicle's tires! Where do you want to drive?
BOX: Signs indicating that a tire has reached the end of its useful life:
Loss of grip that can cause skidding in turns.
Worn tread knobs.
Surface discoloration.
Rubber has dried out.
Presence of bulges, cracks or surface irregularities.
Frequent punctures.
*Lifespan from tire manufacture date is expected to be 3 to 5 years, but may vary significantly
depending on ground surface conditions, temperature, frequency of use, and driver habits.