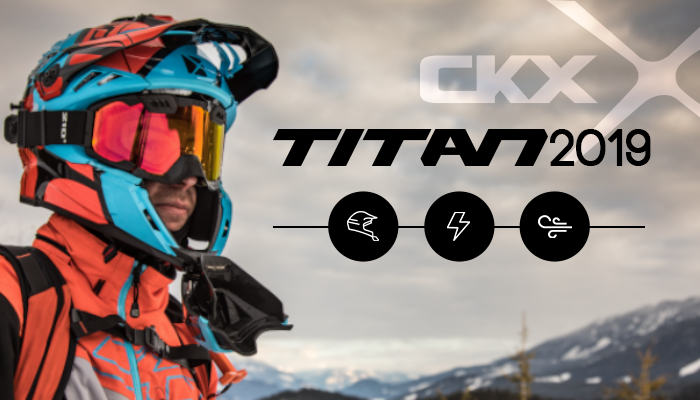 No longer needing an introduction, the CKX Titan helmet is back in 2019 with bright colors and additional innovations. Now available with three different versions, you will surely find the ideal Titan for you. Do not forget that each Titan version comes with a wide range of extra accessories allowing you to customize your helmet to your preferences. At CKX, we are aware that each snowmobiler is different and that your personal equipment must let you enjoy your favourite outdoor sport in total comfort, all the time.

Let's start with the most versatile version. Well known for its unique features, the Titan helmet stands out for its removable muzzle. Now, all original Titan helmets are already set for trail riding mode in the box, providing you with maximum insulation. You can ride for long hours in cold weather and at high speed in total comfort. If you fancy a more aggressive style of riding, all you have to do is remove the insulation pieces and adapt it to the intensity level of your activity.
The original Titan is ideal for those who ride mainly on trails; but this helmet is also great for those who like to venture off-trails. You will also notice that the Titan comes with a second pre-packaged goggle, specifically designed for backcountry riding. You can go now from a totally insulated helmet to a breathable helmet in no time.
Check here for full range of accessories available with your CKX Titan helmet.

Offering the same features as the original Titan, the electric version includes the 210° heated lens goggles. Whether in trail or off-trail riding mode, you will always see perfectly while enjoying an exceptional 210° field of view. Designed with numerous adjustable vents, the 210° electric goggles will help you in any weather condition.
The 210° heated lens goggles includes an improved electric assembly for 2019, as well as a superior wire quality for better toughness and durability. Do not be at the mercy of the worst weather conditions, and get a head start with the Titan electric combo.

This is the most ventilated Titan helmet model. Specifically designed for backcountry riding, this helmet is your ultimate ally for a sporty ride that requires an intense level of physical activity. Its multiple ventilation ports ensure cool air enters the helmet while warm air is efficiently expelled. Combined with the CKX Sidehill one-piece suit for men, and CKX Nieva for women, you will be equipped to go where no one has gone before.
Check here for the complete list of Titan Airflow features.
Whatever you choose, all three models have the features that make the Titan a unique helmet on the market. More specifically, those features include: the removable muzzle, the patented quick-release system and a field of vision among the broadest. In addition to an unrivalled off-trail style design, CKX offers a wide range of colors that you can choose here. Which one is your favourite?