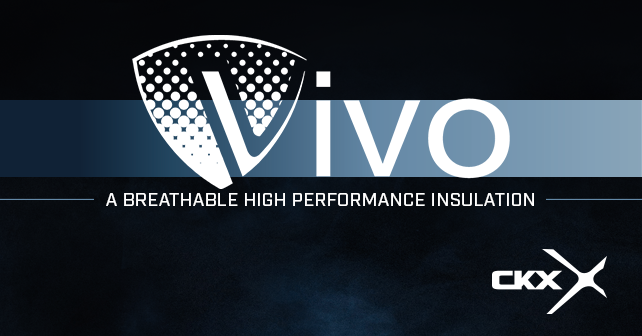 "In 2020, when playing a sport, one is looking for performance equipment. That is true for both
cycling and climbing, and backcountry snowmobiling is certainly no exception." - Bruno-Pier Pépin, Brand Manager at CKX
When performance equipment goes hand in hand with innovation
Going off trails searching for fresh track is exactly what backcountry riding means. But to meet
this ideal requires high-intensity energy expenditure. Climbing summits cannot be achieved
without sweat, or without equipment that can wick away that moisture!
From this point of view, the new CKX Elevation one-piece suit stands out favourably from the
competition. In addition to a new hyper-performance membrane, it offers an innovative design
that has no equivalent on the market: the Vivo insulation.

Keeping you warm and dry: 30% more breathability
What is revolutionary about the CKX Vivo is the design: it features a series of tiny apertures set
within the insulation. These apertures create paths of "least resistance" allowing moisture to
escape quickly away from the body. Moreover, each one of these tiny holes also plays a part in
trapping warm air. This is the technological ingenuity of Vivo's insulation: acting as a regulator,
enhancing the garment's breathability by 30%, without decreasing thermal performances.
''In practice, the rider can rely on equipment that will allow him to sustain intense activity
without being soaked. When it's 20° below, staying dry is crucial!'' states Bruno-Pier.


From undergarments to the outer shell
Although Vivo's insulation has no equal in the snowmobile industry, it is not the only feature
that distinguishes the Elevation suit. The one-piece suit's fabric has a membrane with 20K
waterproofing and 15K breathability ratings that positions it at the head of the pack.
To ensure performance, one must not underestimate the importance of undergarments.
Selecting an adequate first layer is a simple way of optimizing the membrane and the insulation.
All parts and layers of clothing will work interdependently: it is known as the multi-layer
principle.


Being a pioneer in the snowmobile industry
"The Elevation 20K/15K with Vivo suit is based on best practices in the outdoor and active sport
industries. At CKX, we like to do things differently. What we have learned from the creative
process of our iconic Titan helmet, we are now applying to our clothing!" concludes Bruno-Pier
Pépin.
Reinventing the rules, being the first and leaving one's mark… Unquestionably, CKX has
understood what the real backcountry enthusiasts are looking for!