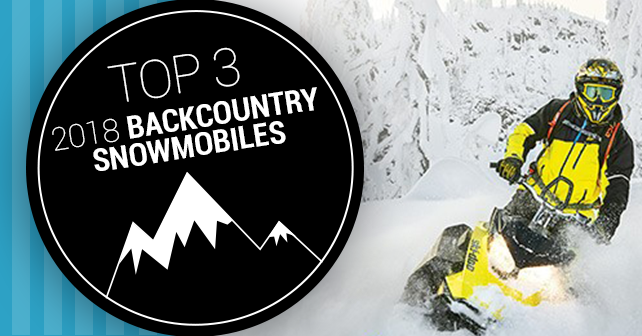 Top 3: Backcountry snowmobiles for 2018
Enthusiasm for backcountry snowmobiling has kept on rising over the past decade and the success of this type of machine is likely attributable to its aggressive appearance, powerful engines, and especially to its capacity to climb terrain that most would think unreachable. One must not forget the main reason for this momentum: the FUN of riding such machines. The following are my top 3 backcountry snowmobiles for 2018. Bring on the snow!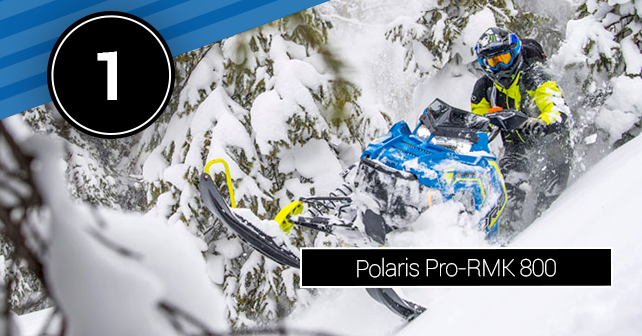 Position 1: Polaris Pro-RMK 800
Once more this year, the manufacturer offers us their collection of RMK mountain snowmobiles. All the snowmobiles from this large family come paired with the excellent AXYS frame. The rigidity, lighter weight, and especially the general balance of the AXYS frame provide a real advantage that pushes this snowmobile to the top of the list.
The Pro-RMK 800, part of this product line, is an exceptional machine with its powerful 800CC CleanFire 2-stroke engine, a wide selection of track lengths (155, 163, and 174 in), and a well-calibrated, adjustable suspension made for literally swallowing snow.
Other than new color options, there are no major changes for 2018. Nonetheless, this machine is the lightest on the market and its performance is astounding. In 2017, Polaris had improved its offering by adding a 174 track. Having personally tested these oversized tracks, I can attest that the feel of the ride remains excellent and does not become a nuisance. The driving is comparable to the 163inches, but with the extra bite that comes with the additional 11 inches. The result is a vehicle that is king of the mountain, which is perfect, since its name is, in fact, Rocky Mountain King or RMK!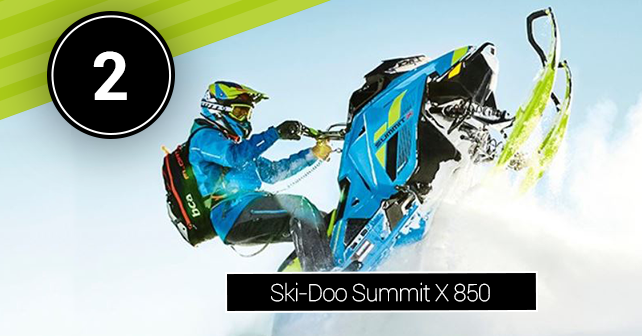 Position 2: Ski-Doo Summit X 850
New as of 2017, the Summit X 850 offers the 4th generation platform and the 850CC E-TEC 2-stroke engine, a highly competent combination that delivers an out-of-the-ordinary performance and sensational driving experience. The version that interests us is the Summit X since it can be ordered in 2018 with a track length of 154, 165, and now available in 175 inches.
The new features for 2018 relate mainly to the new SHOT system. This system stores energy, allowing the driver to rapidly start-up the engine after a full stop without the usual weight constraint seen with conventional start-up systems saving 20 lbs in the process, while also benefiting from an alternative start-up system. The most salient feature of this vehicle is its ergonomic design geared toward the rider's needs. The driving experience is very intuitive and the driver quickly gains a sense of complicity with the vehicle. Perfect for climbing any mountain!
Position 3
For the third position, it was hard for me to choose only one model since I love the new Arctic-Cat M8000 just as much as the Yamaha Sidewinder M-TX,. That's why they both share third place on my list.
Yamaha Sidewinder M-TX
Different from the other machines, the Sidewinder M-TX stands alone in its class due to its 4-stroke engine, generous dimensions, and heavier weight. Nonetheless, this machine rides extremely well due to the combination of a 200HP engine and an unbelievable 130 lbs/ft torque providing all the energy necessary to reach the summit at full force.
For 2018, Yamaha expanded (or even doubled) their mountain snowmobile models and configurations to satisfy the largest possible range of customers and customer needs. In addition, it's now possible to purchase very aggressive 162inches long with 3inches paddles, which will give you the traction necessary to transmit the Sidewinder's power onto the terrain and convincingly propel the machine.
The coming year also brings a new, lower angle to the treads and the possibility to block the first rear suspension shock absorber. The result is sublime as it allows the rider to quickly run off the snow and then float atop of it within seconds.
With such a pedigree, it's not surprising that the Yamaha Sidewinder M-TX made this list. This machine can achieve impressive feats with its remarkable mechanics that never fail, even in high altitudes. This is a notable advantage over the 2-stroke engine.
However, the Yamaha is really in its ideal environment when in presence of large amounts of snow on an open terrain. With its larger size and weight, maneuverability quickly becomes an exhausting task in tighter paths.
Arctic-Cat M8000
At first glance, the Arctic Cat M8000 hasn't changed much. However, 2018 will bring with it a new 800CC C-TEC 2-stroke engine. Following detailed appraisal, this engine was reengineered to deliver better torque at high and low rpm. In addition, it consumes up to 30% less oil. You will find it provides all the power needed for your acrobatic jumps.
In 2018 you will also see the new Ascender platform with a more rigid frame, running boards narrower by 1 in, treads with 9.7° lowered approach angle, and an overall 10% narrower profile for improved side-hill performance and for climbing out of deep snow.
Ergonomics of the driver's controls has been reworked resulting in a stronger driving experience for the pilot. With such improvements, the overall behaviour of this machine is more maneuverable, agile, and communicative. This ride will allow you to push your capabilities more and more on each outing.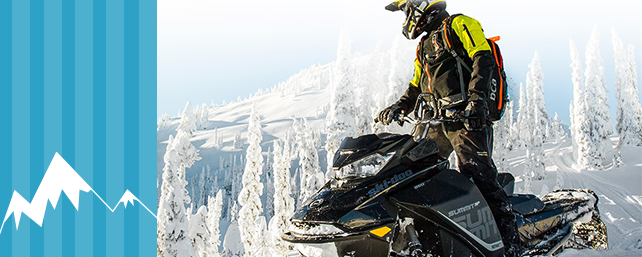 Conclusion
This year again, snowmobile manufacturers focused much of their efforts on a line of products that has been enjoying great success for over a decade. Numerous modifications are made year after year, and all of these machines are capable of spectacular off-trail prowess. All that is left to do is to decide which one will be yours, to be "The King of the Hill." Good luck!
Photos credit: Manufacturers and Motoneige.ca