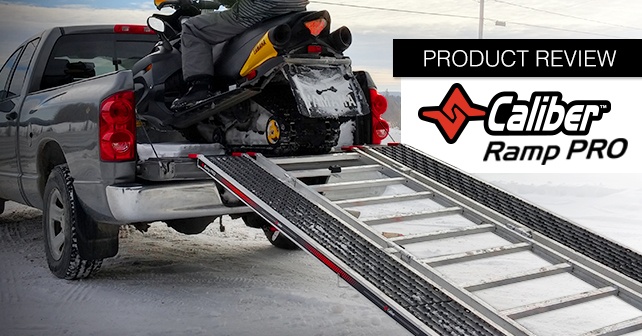 Enjoying the pleasure of snowmobiling comes with the need to have a mode of transportation to help you reach a meeting point. Following the purchase of a snowmobile and a truck, I started looking for the most accessible, least cumbersome and maintenance-free solution to transport my new mechanical "toy"… and I found it : the Caliber Pro Ramp!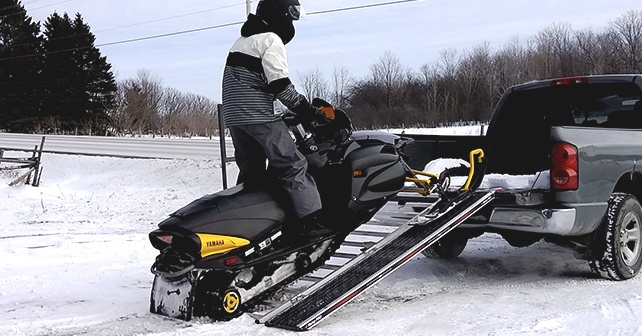 Caliber offers a super strong ramp with many great features making it a stand out in the industry. The ramp is super strong with a rated load of up to 1500 lb. Therefore, there is no safety concern regarding its ability to carry your snowmobile.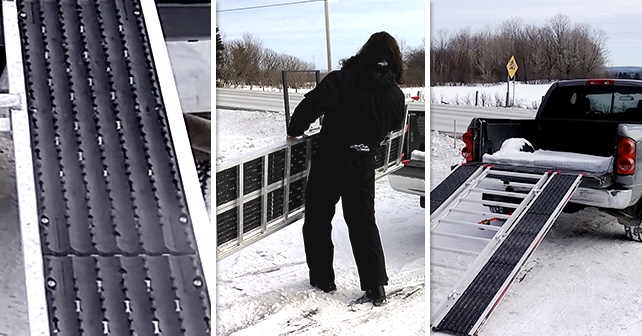 Many great features :
Anti-skid surface "Low Pro Grip Glides" prevents slipping
Folds down to 26" wide for easier transportation
52" width when fully extended, which accommodates all track widths
90" length for a comfortable loading angle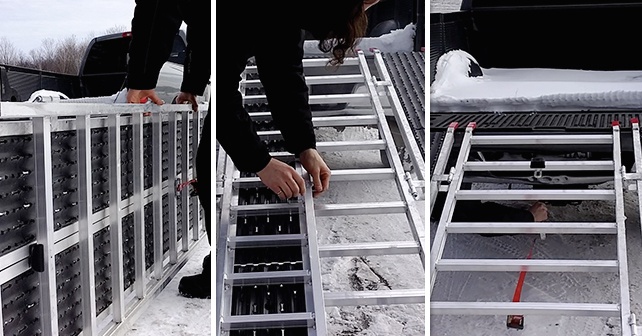 Loading / Unloading
This ramp is also very simple and quick to use. The snowmobile can be loaded in just 2 minutes. Additionally, for more peace of mind, a tie-down strap secures the ramp when in place.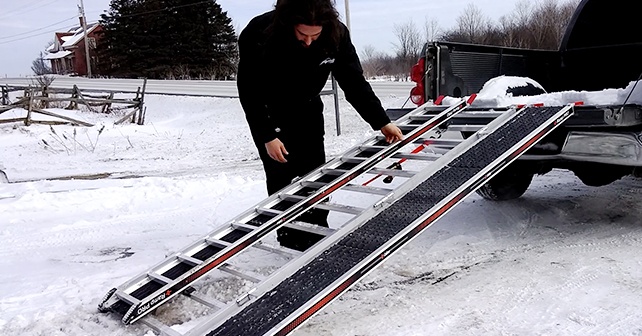 The first impression when handling the ramp is its sturdiness and its high-quality aluminum construction. You notice right away that it's a quality product.
Then, you can't wait to test it; you place the Ramp Pro against the truck panel and secure the tie-down strap underneath the ramp to prevent it from sliding. This is a simple but great idea, in my opinion, to have incorporated it directly into the ramp to avoid dangerous conditions.
Loading and unloading the vehicle subsequently becomes such an easy operation because of the wide non-skid areas on each side, and on the central section. It should be noted that non-skid blocks are available to add even more traction in the center. This "must have" item prevents snowmobile tracks from skidding on the aluminum.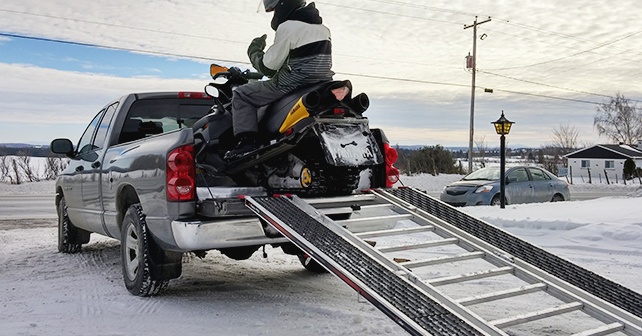 Strengths :
Rock-solid construction
Non-skid areas for the tracks
Self-retracting tie-down strap underneath
Wide enough to allow even large snowmobiles to be loaded
Aluminum rustproof construction
Non-skid blocks available for the mid-point area
Weaknesses :
Too bulky (90") long even when folded. Somewhat difficult to handle and requires thinking about where to tighten it.
Non-skid blocks for the mid point area sold separately. Given the purchase price, these blocks could have been provided.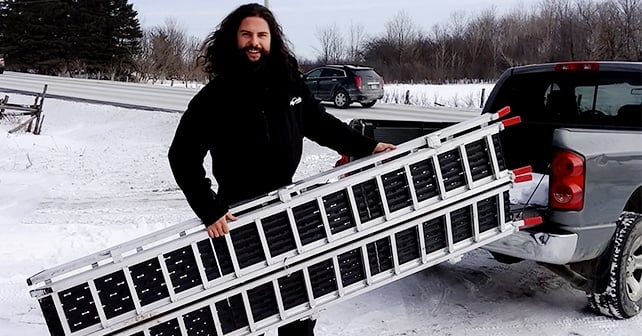 Verdict :
This is a super strong ramp capable of handling any kind of difficult job. Non-skid plastic sections provide increased traction, and a tie-down strap secured underneath the ramp allows for a significantly safer operation.
However, despite the rock-solid construction benefit, the ramp weight and fact that it does not fold at less than 90" long contribute to making it less ideal.
For additional information
Purchase the Caliber Ramp PRO at your Kimpex retailer or visit the Caliber website.
You also might be interested by the Caliber PRO Ramp ATV Review post.