Since I did not win the last lottery despite my high hopes, I started looking for a solution adapted to my needs (and my budget). So, the option that seems the most attractive, economical and easiest to move my ATV is a loading ramp. Caliber is the company that offers THE ATV ramp model with countless features: The PRO Ramp.
When I received my ramp, I was like a child with a new toy. At first glance, when you have the ramp at hand, you notice its strength and the quality of its aluminum construction. Then you want to try it right away.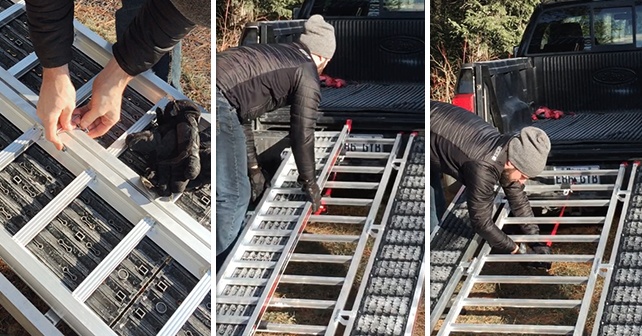 I quickly installed it all against the truck panel and jumped onto my ATV to go up and down a number of times. Wow! This is what I was saying to myself.
In less than 2 minutes, the ramp was installed and the vehicle was loaded (or unloaded). It was super simple and really quick. Adding to the safety feature is a tie-down strap under the ramp that ties up everything securely on the vehicle.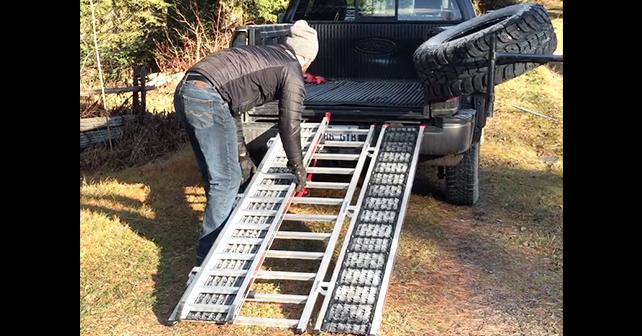 Why is it THE model to get? It's easy to answer just looking at the many features.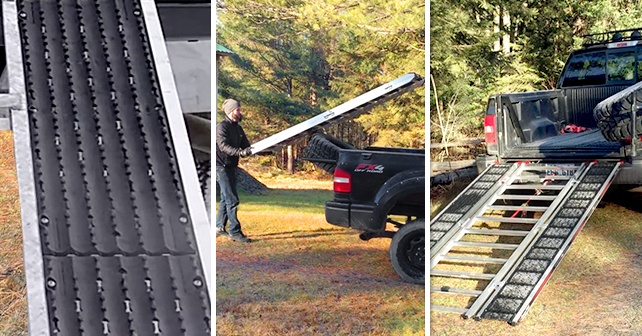 Many other features that make it stand out from other models on the market:
- LowProGripGlides – Anti-skid surfaces for the tires
- Two panels folding over the middle panel – for a total width of 26 in.
- An incredible 52 in. width when fully deployed
- And an impressive 90 in. in length providing a safe loading angle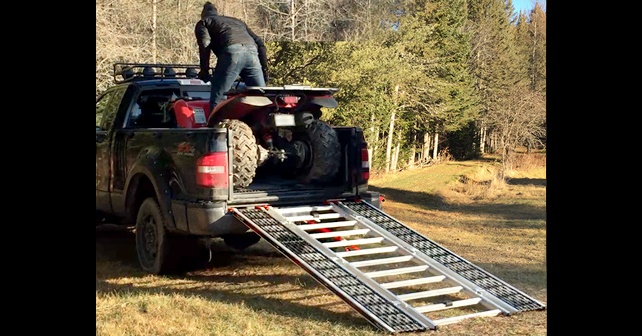 The ramp's strength exceeds expectations with a maximum load of 1500 lbs. So, no need to fear for your ATV and even an SSV.
Strengths:
- Anti-skid surfaces on each side for the tires
- Automatic lashing strap
- Rock solid - Indestructible
- A more-than-sufficient width for more safety, even with those more impressive ATVs.
- No corrosion because of the aluminum construction.
Weaknesses:
- Even when folded, the ramp's size takes up space because of its length (90 in.), so you
must think about where to store it.
- Its weight and length require some strength to handle it.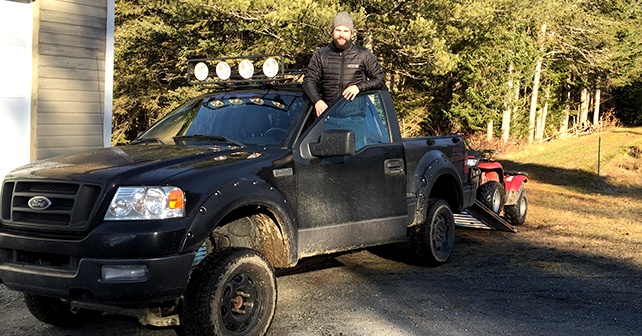 Verdict:
Don't wait to purchase one! Rock solid, corrosion resistant, anti-skid surfaces and a host of other details that definitely make it THE best ramp to accomplish the task.
For additional information
Purchase the "super duper" Caliber Ramp PRO at your Kimpex retailer or visit the Caliber website.