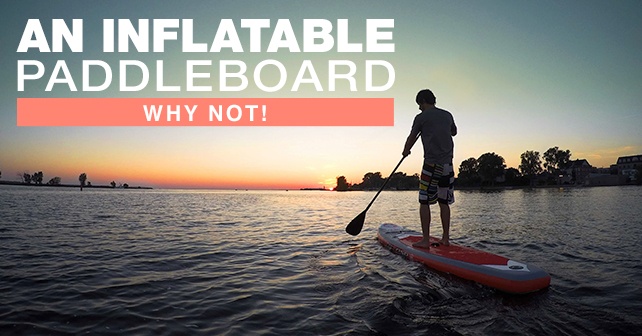 Tested model : ZINO Paddleboard by Wow Watersports
New Product
For those of you who don't know about the WOW Watersports Brand, it's a young company (established in 2010) specialised in the manufacturing and sales of large inflatable water toys. From the inflatable trampoline, to tubes towed by boat, to the floating "beer pong" table, there really is something in all shapes and for all tastes, even the weirdest! (a kind of giant floating hamster cage…). Among their latest 2015 products, there is an inflatable "standup paddleboard" (SUP) that I have been able to try out several times over the past month.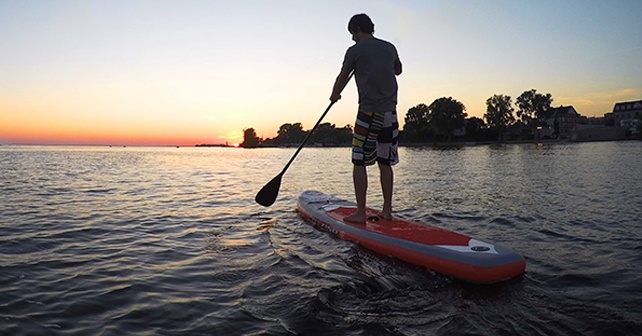 Features
Before talking about its performance on water, let's focus on the main feature: practicality. The board, paddle and pump fit into a kind of backpack with a capacity of 65 litres and a weight (when filled) of about 30 lbs. No problem for an adult to carry it. I even carried this pack on the bus without looking (too) crazy. This size also fits in any car trunk and can even be taken as checked-in baggage. No more costly rentals, time restrictions… the waters of Mexico, Florida and Cuba are yours for the taking!
Let's move on to the next point, inflating the 'board'. Thanks to the manual pump equipped with a pressure gage, it's all done in less than 10 minutes. The valve on the board is a professional one. We are not talking here about a valve for a small inflatable boat that deflates as soon as we remove the pump, but a real "Dinghy" boat style valve which blocks as soon as the pump is removed. WOW Watersports recommends a 15 PSI pressure which is easily obtained with the gage. The last PSIs are barely more demanding, for the perfect "warm-up" before taking on the water! The main centre fin and the adjustable paddle can be mounted in seconds, and we are ready for the water. The board is rather light, much more so than a rigid SUP (Standing Up Paddle Board), and is easily carried with a small handle on the top. A score of 10 out of 10 for now! But how does it rate on the water?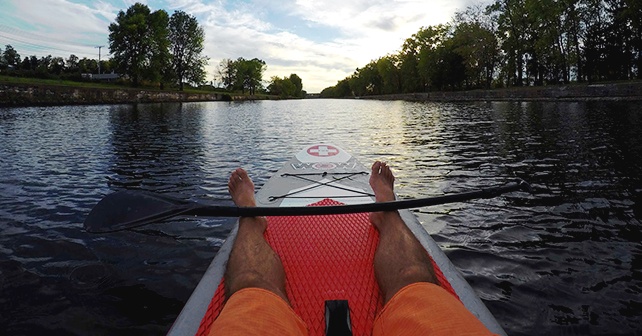 The real test
Since I rarely had in my life the opportunity to try out an SUP, I contacted my friend Guillaume from En Vadrouille, a "board sports on water" enthusiast (sailboard, surf, wakeboard) for his advice. Despite my "beginner's'' status, the handling is easy and within 5 minutes, I already feel like a Hawaiian sailing on the Pacific. You would say that my snowboard, skate, wakeboard and wakesurf experience helps me out here. Certainly, but even Guillaume's father (and his long past sailboarding) did not fall once while he was trying it out. The absolute beginners may have a bit more difficulty standing up, but there is nothing more refreshing than a little dip in the water. Slightly shorter and narrower than the average SUP, it will thrill the most experienced as well as beginners. All 3 fins stabilize the sailing path perfectly and with a few paddling techniques, the board moves ahead easily. Often, the inflatable SUPs have a tendency to somehow fold in the middle; but instead of the standard 4'' thickness, WOW Watersports opted for a 6'' thickness which barely gives the impression of being on an inflatable board. However, there is no risk of injury because contrary to the rigid board, a fall will be cushioned by the inflatable side. The last, but not the least, feature is its robust PVC coating which prevents those dents when hitting a wall or an obstacle. Did I find any faults? Actually, only one. My friend Guillaume's SUP experience helped me realize that the Zino Paddleboard is a family board, not a high- performance board. Its inflatable feature takes away some of the aerodynamics.
Let's conclude with the board's deflation and board's packing in the bag. The valve used to inflate is the same one used to deflate. With one pressure application and one turn, it blocks up letting you pack the other items (paddle, fin) while the board is self-deflating. Within 5 minutes, the board is totally deflated, rolled up, packed up in its bag and ready for the next ride.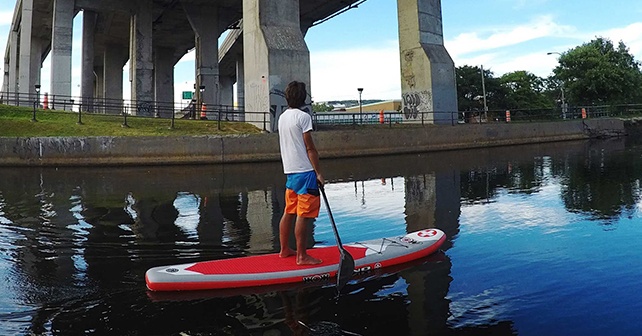 Positive features :
- everything fits into one backpack which makes it very convenient to store at home or to carry, compared with a rigid SUP
- quick inflation/deflation system
- professional PSI pump and gage
- adjustable 3-part paddle
- removable main centre fin
- light board with a carrying handle
- "bungee" system on the board to secure equipment
- front ring (underneath) for fastening and towing behind a boat
- with a 6'' thickness, the board does not fold on the water
- enjoyable riding
- no risk of injury or wound in case of a fall
- its inflatable feature prevents any damage when hitting a hard surface
- heavy-duty PVC coating
Negative feature :
- with regard to performance (speed, aerodynamics on the water), better is available with a non-inflatable SUP
Hours of pleasure
To summarize, the Zino Paddleboard is a very practical "standup" board, especially because it's inflatable and allows for optimal storing and carrying, as compared with a rigid SUP. Its ultra quick inflation/deflation system used with little effort will please beginners and the more experienced alike. Once inflated, the board is in no way inferior to the rigid SUPs even if those seeking performance could find it a bit heavy on the water. WOW Watersports has created a successful product that will bring hours of pleasure to its users!