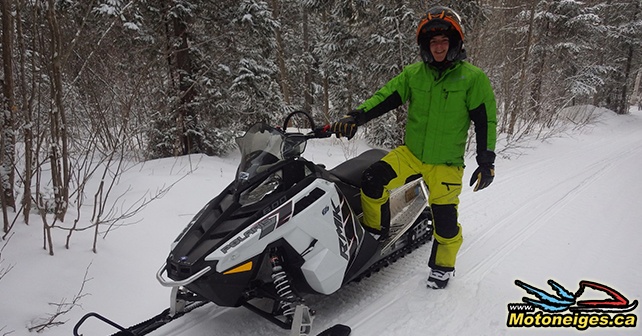 Everyone who knows me knows: I ONLY wear motocross style helmets when it's time to do some snowmobiling. So I was very surprised when Kimpex asked me to try the CKX Tranz 1.5 helmet.
It was the Evolve model in orange that arrived at the house. What a beautiful helmet! As I said to the Kimpex people, ''it's the only modular helmet for which I would trade my full face helmet.''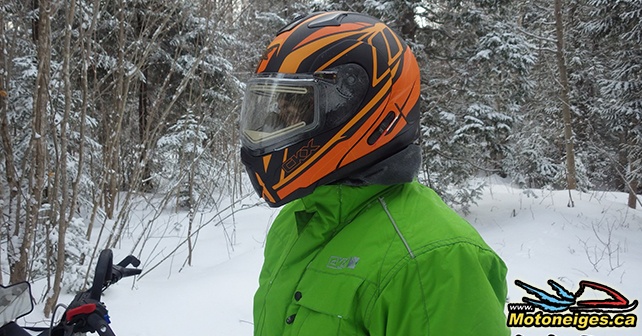 Many novelties are at the forefront this year for the CKX Tranz 1.5. To start with, the button under the helmet for easy opening, and then, the rubber mask, which prevents humidity from accumulating inside the helmet. Obviously, a plug for a wire to heat the visor is included, and there is a tinted visor as well.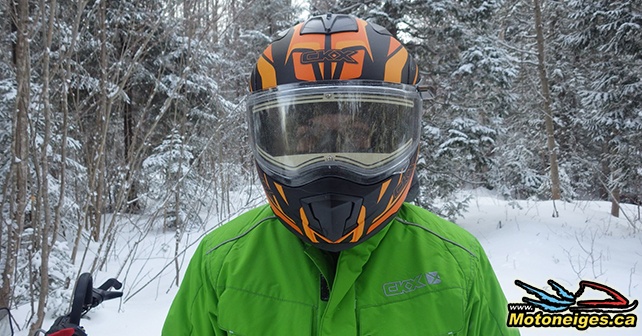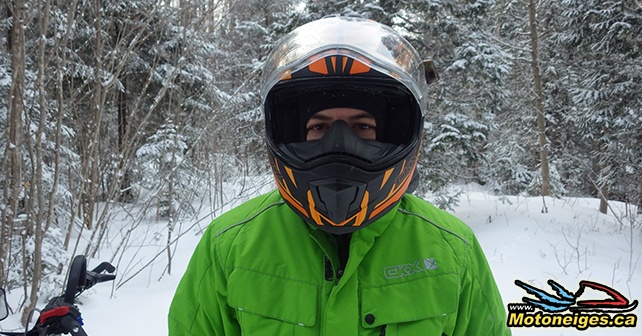 I was the (un)fortunate one to really put the helmet to the test, in the extreme cold, right on the first day. I must admit that I was very happy not to have to worry about freezing an exposed part of the face, especially at -20 degrees. Just put on the helmet and away you go! However, I did notice in extreme cold, there is humidity in the lower part of the helmet, which creates condensation and finally frost, which makes the helmet more difficult to close once it is opened. But, once closed, we can leave without any problem. One thing I really appreciated was the fact that when the helmet is closed up, the sound of the snowmobile is reduced, which is pleasant to the ears, especially on a long outing. It prevents the usual blinking at the end of the evening!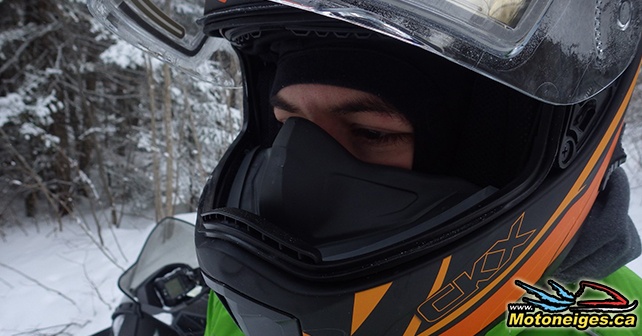 Honestly, I especially appreciated the rubber breath deflector. I was rather sceptical about having this type of material stuck to my face in the cold. Contrary to what I thought, it is very comfortable and since the rubber does not absorb the humidity, our faces remain dry throughout the day.
Even on long outings, the CKX Tranz 1.5 is not unpleasant because it's light. In addition, it offers a very wide field of vision.
Once again, I would like to thank Kimpex for letting me try out the CKX Tranz 1.5. It is a pleasure for sledmagazine.ca to be a partner with them for so many years!
You will also like: Extend the Life of Snowmobile Skis