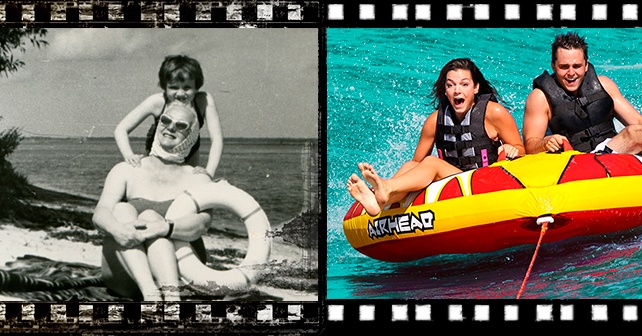 It's not an everyday thought, but not only have the information technology and video games industries evolved at mindnumbing speeds over the past 45 years.. So has the watersports industry. However, back in the 70's, we didn't quiet speak of it as an industry yet!!! Though we had plenty of fun on the water during the disco years, now a days there are more and more oppurtunities for children (and adults).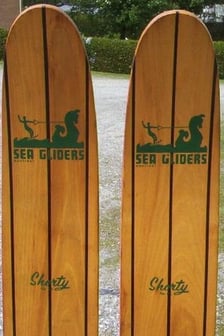 The « banana ski » days!
I remember, as if it were yesterday, our weekend activities on the water in the early '70s. With just a simple pair of SeaGlider© skis and a yellow polypropylene rope with a wooden handle. As for the daredevils, there were the more extreme sports, which can pretty much be summed up as '' banana skis'' to make 90 and 360 degrees spins and jump over the platforms. We enjoyed trying the challenge of going ''barefoot'' while being pulled by a 50 hp motor. Good luck! You could also go slalom skiing or get tugged around on a tractor tire's inner tube as a water tube.

A fun new Era
Today, specialized companies such as Airhead, Sportsstuff and others have revolutionized the field of "water toys" with the arrival of "real" water tubes, wakeboards, kneeboards, etc... But above all, there now are alternatives and easy to use equipment, even for the little ones. Speaking of the Big EZ Ski or EZ Ski, the Wake Trainer as well as the U-Ski by Airhead. With these innovations, very little physical force is requested of the child.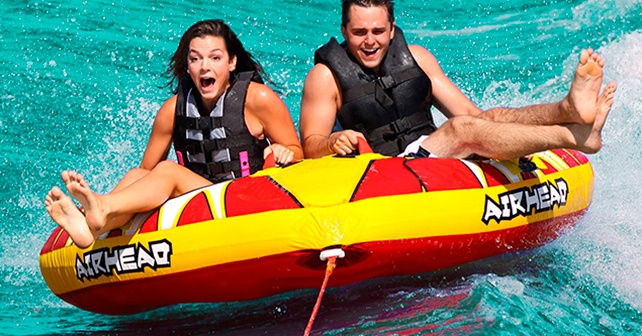 And you, tomorrow?
Watersports have evolved like so many other things, but the joy of being out on the water remains the same. Every year, marine focused companies are inventing new toys and new ways to have fun on the water. And you, how do you enjoy the water? How about tomorrow, and the day after that, and...? Will you try something new? I invite you to share your activities,'' extreme'' or not, from the 70s and today in the comments section!
See you on the water!
Your friend, Propnote