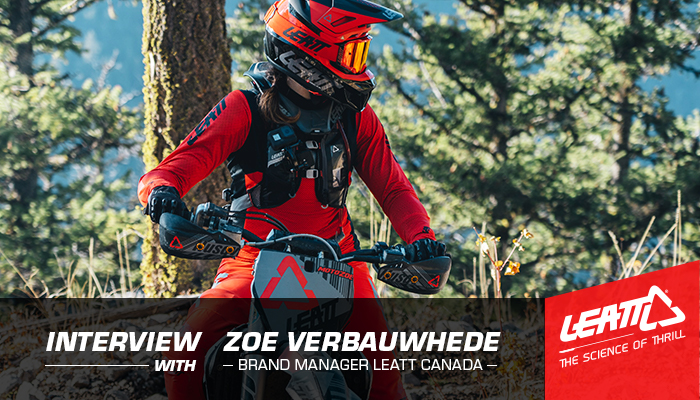 In a series of interviews featuring our partners, Kimpex introduces you today to Zoe Verbauwhede, Brand Manager for Leatt in Canada.
Zoe has been in the motorcycle industry for about 20 years. From the moment she found out about Leatt products and the history behind the brand, she was smitten. As a rider herself, she tends to test the gear quite a bit. The science behind the safety of the brand blew her away.
She started at Leatt Corp in 2019.
She agreed to answer our questions with great enthusiasm.
1- How did Leatt come to exist?
Dr. Chris Leatt is a doctor and an avid rider. One day, he took his young son to watch a race at a local track. At one point during the race, he was called over by a paramedic to help a rider Chris knew, Alan Selby.
Alan had experienced a bad crash having gone over the handlebars with a suspected neck injury. Sadly, Chris's attempts to resuscitate him were unsuccessful; he then had to assist in bringing the body back and informing Alan's family, including his young children of his passing.
This played on Chris's mind, especially as his own son had just begun riding a dirt bike. His initial thoughts were to go and buy a product to help prevent this kind of injury. After lots of searching, he discovered that no such product was available on the market!
This was the beginning of Chris's mission to develop a product that would reduce the risk of serious neck injuries. He began to develop the product whilst still working. He then quit his medical career and launched himself into his research full time. In 2004, he brought the first neck brace to market. Today, Dr Chris Leatt is continuously working to improve rider safety in extreme sports, covering both dirt bikers and mountain bikers, from head to toe.
2- Where is Leatt based?
Dr. Leatt and his lab are based just outside Cape Town, South Africa. We have partners in countries all over the world who distribute our products for motorcycles and mountain bikes in their relative markets.

3- You mentioned the Lab, what happens there?
This is the heritage of the company established in 2007 where all products begin as a concept, and are designed and tested in-house by our bio-medical engineers. Not a single product is developed outside of Leatt.
We have test rigs that can put all products we develop through their paces: Neck braces, Knee braces, Helmets, Body armour, and the list goes on and on. Having this facility enables us to ensure performance of the products is optimised during the design process.
Using a range of real-life scenarios similar to the types of situations that might be encountered in a motorcycle, bicycle or kart accident, tests are conducted at intensity levels that allow Leatt® engineers to fully understand and characterise accident dynamics and product / rider interaction. This helps us optimise product performance, and also gives Leatt® engineers the confidence to expect a first-round approval when submitting products for various global independent certifications.
4- Who are your top-level racers right now and what are the plans for Canada on that front?
We work with some awesome riders worldwide in many disciplines: from the UK we have world renowned Jonny Walker, no, not the alcohol but the very talented enduro rider. Jonny is a RedBull athlete and has dominated in hard Enduro for quite a while now. At one time, he was under the title of the best enduro rider in the world. He won the Erzberg Rodeo, an annual Austrian extreme enduro event, three times, Romaniacs twice and quite a few more. He has just signed on with Beta for 2021 and we are really excited as he has plans to come and race in North America sometime soon.

For North America, you would know Ryan Sipes, also known as the "General". Ryan is nicknamed "The General" because he competes in multiple motorcycle disciplines including Supercross, Motocross, GNCC, Extreme Enduro, Flat Track and even Hill Climbing! Several of these disciplines are new to him, some as recent as 2019. His quest is to become the world's ultimate off-road motorcycle racer.
In Supercross, we work with the SmarTop/Bullfrog Spas/MotoConcepts Honda team (MRC), with Broc Tickle, Benny Bloss, Shane McElrath and Vince Friese. All 4 riders are in Leatt head-to-toe this season!
The one you might know the best is Mike Alessi, as he rode the Triple Crown Rockstar Energy MX-Tour in Canada in 2019.
As for plans for Canadian riders, we are working with the unknown. The brand is doing very well and I wouldn't be surprised to see some up-and-comers in our threads in the near future…

5- What are the top 3 must-have products that Leatt manufactures today?
Oh, this is difficult to answer because I am a big fan of many of our products. I ride myself and I do tend to crash a fair bit; so I can tell you which ones have saved me more than once.
Of course the top product in my mind is the 6.5 Carbon neck brace. It is very light and extremely adjustable. All the braces are so low profile now. We have come a long way in the last 15 years. This is our flagship product. Because we realize that not everyone can spend this much, we also offer the 5.5 Composite neck brace, which has all the same features of the 6.5 Carbon, but has a composite matrix platform instead.

The second one would be our soft-shell 3DF Airfit body protector. It has exceptional impact protection (CE level 2) for the chest and back as well as impact protection for the shoulders and elbows. Removable 3DF impact foam ensures that you can wash the zip-up compression base layer. It's just so easy-to-wear, so comfortable and much slimmer than many other products. We offer many different soft-shell options, so we are able to accommodate for riders not wanting elbows, or elbows and shoulders, etc. We are confident we will have a soft-shell 3DF product for most people's needs.

The third would have to be our new boots! They are very comfortable and I have received many messages from riders telling me how much they love them. The boots were in development for 3 years. We engineered a bespoke test rig in the Leatt Lab, and we are using our global athletes. In my opinion, we have one of the most scientific boots in the market with some pretty neat features. The FlexLock is the most important feature safety-wise. It allows a small amount of sideward movement before locking out. This reduces energy to the ankle by up to 37% and the knee by up to 35%. I could talk about the low toe box for easy gear shifting, or the flat inside for ultimate frame grip, but my favourite feature of these boots is the SlideLock cuff. It's a specially designed, one-way closure system at the top of the boot that enables a great seal around the calf even when using knee braces.This overcomes a problem that many have experienced. Some riders have told me they would buy the Leatt boot for this feature alone! For 2021 we also offer an Enduro boot with the same features as the Moto boot, but with a more aggressive sole that has more mud channels for the offroad crowd.

Furthermore, for 2021 we have just launched our brand new helmet line which is completely re-designed. We have been in the helmet market a while now and we listened to what the consumers felt we did well and what they would like to see from us in the future. The new 9.5 Carbon helmet is filled with Leatt tech and looks really good on top of all that. We kept our well-known venting system and of course our 360 degree turbine technology which not only reduces peak brain rotational acceleration by up to 40%, but also reduces peak brain acceleration by up to 30% at impact speeds associated with concussion. We added some new features, like the Pro-fit liner, which is so comfortable and moulds to your head really well. We use 4 different densities of impact foam placed in 5 strategic locations in the shell to offer optimal protection. There is a spot to put your hydration hose so that you can drink hands-free. The helmet is super light and comes with a free pair of Velocity 6.5 Iriz goggles worth $150 CAD. We offer a composite version of this too in more color ways that also come with free goggles, the Velocity 5.5 Iriz goggles worth $120 CAD.

Find out more about leatt products on Kimpex's website .
To learn more about LEATT's 5.5 FlexLock motorcycle boots, check out this article.