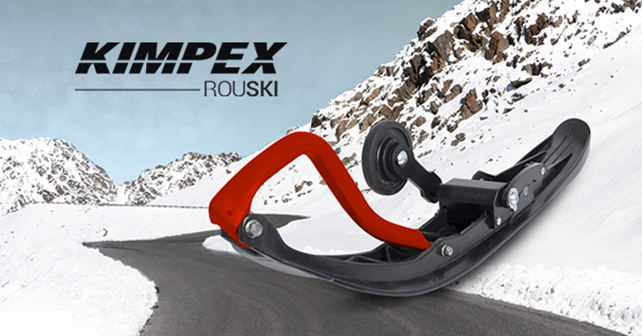 A new brand for Kimpex
On and off the trails!
Drummondville, QC, December 2017 – Following an agreement earlier in March, Kimpex is now the proud owner of the Rouski brand. After being the exclusive distributor for more than ten years, Kimpex Rouski is taking over the production and will continue to develop a quality product to fulfil the needs of the most demanding snowmobile customers.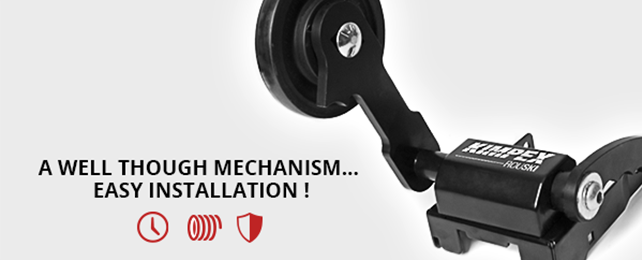 Off-trail with Rouski
Made especially for when you have to get off the snow, the retractable wheel system allows you to leave the trail to fill up your tank and safely ride along the side of the road while protecting your snowmobile's skis and runners.
With its easy, fast installation and adjustment, the third generation Rouski offers many advantages over other products on the market. Thanks to stronger and durable wheels, the snowmobile has better manoeuverability especially on hard surfaces and in curves. Offered at competitive prices, Rouski is a must for all enthusiast riders!

A new website dedicated to the Kimpex Rouski products is officially online since November 2017. From now on, customers can visit www.rouski.ca and find videos and helpful technical information to discover and purchase products in just a few clicks.

Let's roll on skis!
Rouski products joined the Kimpex family and the team is eager to work along to make sure that this newcomer will reflect the values of quality and innovation shared by all. To this end, Kimpex Rouski can rely on ex-brand owner Mr. Ghyslain Bernier's precious help, as he will contribute to the product's improvement for the years to come.
Because there is no place where you can't go: let's roll with Rouski!