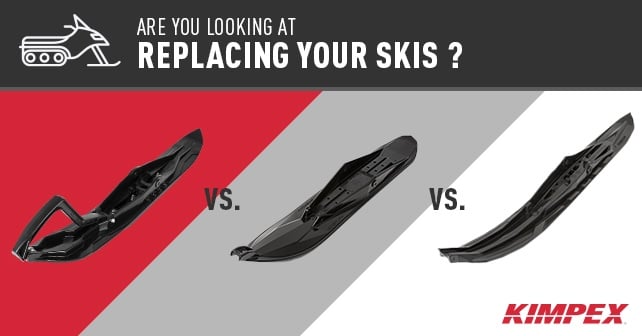 Are you looking at replacing your snowmobile skis? It is definitely the opportune time to opt for a ski that will improve your snowmobile's drive. How does one decide? There is much to choose from, and it is sometimes difficult to make an informed choice. Here are three suggestions specifically recommended for those who appreciate precision driving and curve control.

Lightweight, stable and efficient in all conditions, the Rush ski is one of the most interesting choices. The unique keel design helps reduce steering effort and swaying which greatly improves the driving experience. The Rush ski is versatile and can be equipped with different carbide runners that improve performance and are compatible with some OEM runners. They come in seven bright and trendy colours, giving your snowmobile that personal touch.
Interest for the Rush also lies in the fact that it is available at a most affordable price, and to top that, it's sold in a complete kit which includes: skis, runners, handles and adaptors.
Simple and efficient: purchase, install and enjoy! Worry free, Rush skis are really all inclusive.

Do you enjoy taking on those curves aggressively? You will no doubt be thrilled about the Arrow Ski II's performance. With its unique design, and thanks to its double keel, this ski provides you with control and unmatched stability in the turns.
Lightweight, agile, performance oriented with lots of bite! Arrow II Ski: Ideal for the bold and brave!

Looking for a leading technology? With the Stealth ski, you will discover exceptional driving stability!
With its innovative design, the Stealth is the only ski on the market with runners only, and without a keel. This feature keeps you from ''falling'' into the tracks left by other snowmobilers when swaying occurs, thus a great help to reduce steering effort. Because of their revolutionary design, Stealth skis also erase their own tracks in a way, leaving the trail intact after passing through. Distance between the skis is also adjustable for optimal configuration. Offered in white or black, Stealth Skis are wider, providing better flotation on the snow if you must go off trail.
Making your own trail without falling into others' tracks: Is that not every snowmobiler's dream? Sporty and precise, regardless of conditions, switch to stealth mode with Stealth skis and rediscover the fun of sharing trails!
Three easy suggestions for installation
All skis are equipped with integrated ties for easy installation and the proposed models have pre-drilled holes to simplify assembling the runners. Several adapters are also available based on the type of ski you choose and your snowmobile brand. Each one of the skis shown can also be equipped with the Rouski retractable wheel system.
You will then need only to pick the colour of your handles! Choose among the 9 colours available and customize your snowmobile!
All-inclusive and worry-free, with cutting-edge technology for more aggressive driving or stealth mode for more enjoyment on the trails? Whichever you choose, one thing is certain: with Rush, Arrow II and Stealth skis, you will be equipped for a much better driving experience!
Need a set of Rouski to go with your new skis ? Go find more information here !