If you knew the number of times people ask me: "Mathieu, which snowmobile should I buy?" or "Mathieu, what should I know before I go purchase a new snowmobile?" you would undoubtedly be surprised! I really wish I could answer that question… but there are so many factors to take into account before you purchase a snowmobile, and even more so if you intend to purchase a new one. That is why I have listed below the ten main things a person should know before purchasing a snowmobile.

The budget
This issue is undeniably the most significant and deserves all the attention. We all know a snowmobile is not an inexpensive machine. That's why you must take your time to think about the budget to allocate for the purchase of a new snowmobile. In particular, you must remember to allocate sufficient funds for trail and riding maps, helmet and accessories, maintenance schedules, repairs (oh yes, this might happen even with a new snowmobile!), gas and special winter clothing (a new snowmobile is worthless without an adequate snowmobile suit in the winter).
The need
I think that most people do not really take the time to evaluate this issue. It has been shown that a majority of consumers do not buy the snowmobile adapted to their needs, mostly because, in many cases, they tell themselves: "I want the biggest machine!" I'm not making this up; this is not a joke. It's a fact that snowmobile manufacturers share with us.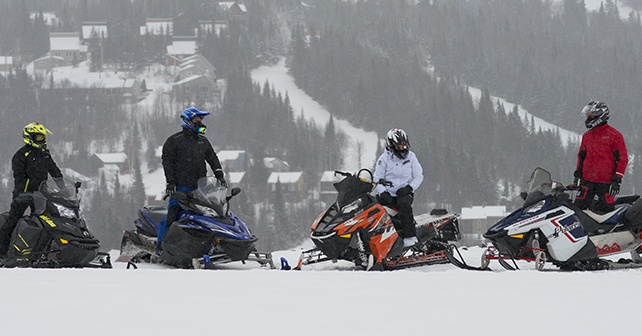 The brand
I don't really like this purchasing criterion but undoubtedly, the majority of people never think about it. In my opinion, any potential buyer should first analyse all nine other issues in this list before even thinking of their future snowmobile's brand. Indeed, All brands are great and they all have something for you.


The type of snowmobile
This is an interesting question to ask. People often tell themselves "I'll only use trails" or "I'll only ride off-road". If however (just like me) you must ride tens of kilometers to reach your off-road area, an interesting compromise would be to buy a snowmobile which performs a little better on trails before safely reaching your off-track area,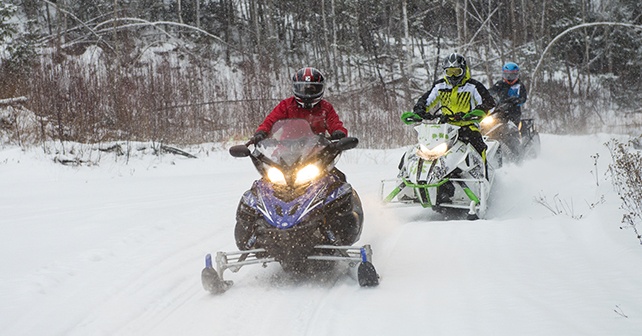 The riding style
Whether you are a "passive" trail rider or an aggressive snocross driver who likes to take sharp turns, your snowmobile technical criteria will be different, based on your riding style. This is also true if you favour off-road riding. If you only use your snowmobile to reach your country cottage, you will definitively not buy the same snowmobile that you would for extreme off-road riding (with giant leaps) or even "tree riding".
The suspension
If you like aggressive riding on winding trails, you will definitely seek a sportier suspension. Having a suspension with easy access for adjustments is always an advantage. If you are the type of rider for whom there is no perfect tuning combination in any snowmobile, you will certainly look for a suspension with an almost endless number of adjustments, allowing you to always get closer to perfection.
Durability
If you have a tighter budget, you will most likely rely on a snowmobile with a platform having a well- established reputation on the market, equipped with an engine whose reliability has been proven over the years. But sometimes, getting a snowmobile with a new engine or a new platform could become a good long-term investment.
Annual mileage
If you drive 12,000 km per season, you probably will not want to waste time reassembling your engine during the season, right? Moreover, if you drive over such long distances, you will certainly try to save gas. However, if you prefer off-road driving, this issue might not be of interest to you.
Engine performance
I am sure you like to "squeeze" the throttle handle to hear your snowmobile engine roar, a sound that thrills you, or the great "pshhht" sound of a turbo engine. Perhaps, unlike your riding buddies, you don't care so much about the thrill of a speeding snowmobile? You should ask yourself these questions in order to choose an adequate engine for your future snowmobile.
Standard accessories
If you travel a lot as a snowmobiler, you would be pleased to know that the snowmobile you just purchased is equipped with standard travel bags, right? In the same vein, if you ride these trails together with your wife, you will need a booster seat (as comfortable as possible because the Mrs. deserves that, right!). For several years now, most snowmobiles (if not all), are equipped with many standard options. You should take your time to select the non-standard options in order to make yours the perfect snowmobile.
In conclusion, purchasing a new snowmobile may require some thought. On several occasions, I heard somebody complaining that a detail (even though minute) was disturbing him after he became familiar with his new sled. Contrary to what people think, there is no "formula" that helps meet the needs of every customer. If you have already decided to purchase a snowmobile, why not invest some time in choosing the snowmobile that best suits you!