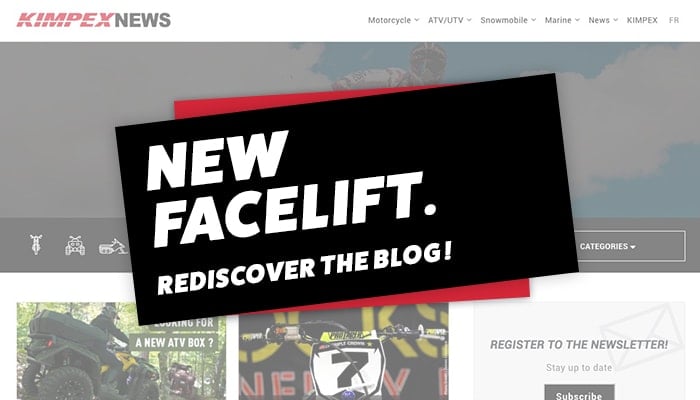 The Kimpex blog is undergoing a total makeover, and with much pride the entire marketing team is inviting you to discover the content!
Determined to revamp its blog image, Kimpex initiated the development of a new internal platform with a clean and modern look in 2017. Icons, menus and character fonts… nothing was left to chance. "The driving force of this entire endeavour, from the beginning of the project until it went online a few days ago, had but one objective: to maximize the experience of our users," states Dave Bélanger, Content Marketing Analyst. The ergonomics of the web page has therefore been thoroughly redesigned to simplify web browsing, maximize research results and make it easier to reading articles.

There is no question about it: with over 50 years in the field of power sports product and accessories distribution, Kimpex is the industry leader. "In the web world, the blog is a crucial communication tool to share our expertise. Enthusiasts are searching for pertinent information and that is what we offer them," concludes Mr. Bélanger.
After a short pause for a makeover, the blog has returned! We therefore encourage you to explore this new platform and discover the trends and news in the industry.
Developed and written by enthusiasts and experts, the Kimpex blog is a must for all those who are thrilled to attack everything from the open roads to the open waters!