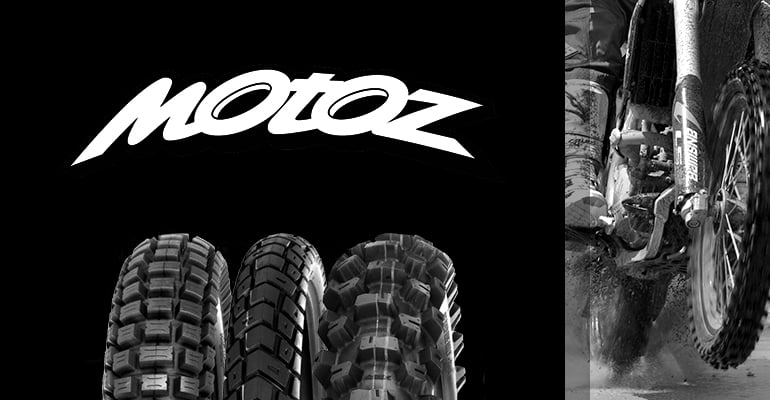 MOTOZ Off-Road Motorcycle Tires
Kimpex exclusive distributor in Canada
Drummondville, QC, May, 2018 — With much enthusiasm, Kimpex is pleased to announce that it has become the exclusive distributor in Canada for the MOTOZ brand of tires.
MOTOZ is an Australian company specialized in the design and production of tires for off-road motorcycles (motocross, enduro, adventure). MOTOZ's designers are true-blue enthusiasts and test pilots as well, which gives their products good added value. Providing superior traction and great durability, MOTOZ tires offer an excellent quality-to-price ratio.
At the outset set of a new off-road motorcycle season, the announcement of this exclusive distribution partnership is excellent news for all enthusiasts! In stock mid-May, several models will be available at retailers and online.
"MOTOZ is the craft beer of tires!" That is how the brand is presented on the company's web site. Kimpex therefore raises its glass to honor this new partnership which, we hope, will be inscribed in longevity!

About Kimpex
With its 2 distribution centres and over 86 000 products available, Kimpex is the Canadian leader in the distribution of parts and accessories for motorized sports. Based in Drummondville, Québec, the company has a network of more than 3 500 retailers in Canada and the United States. This year, Kimpex is celebrating 50 years of experience in the distribution of the industry's most prestigious brands. Kimpex is the distributor of choice in Canada. Visit www.kimpex.com

Information
For additional information about Kimpex products, visit www.kimpex.com or contact Kimpex à communications@kimpex.com.