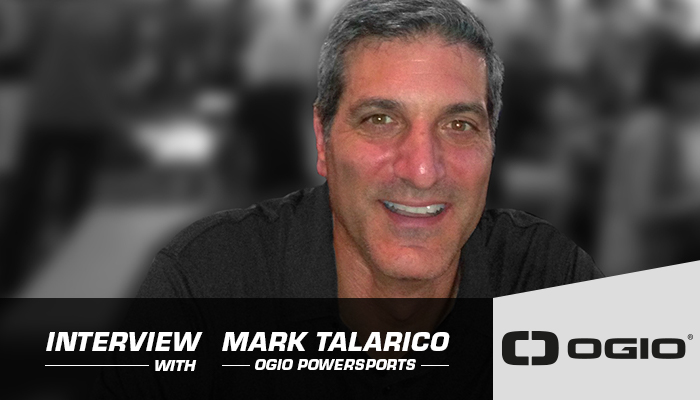 In a series of interviews featuring our partners, Kimpex is proud to introduce you today Mark Talarico, General Manager at Ogio Powersports who agreed to answer our questions in this brief interview.

Introduction :
Hi, my name is Mark Talarico, GM at Ogio Powersports. My role here as General Manager is being responsible for all aspects of the brand: Sales, Product Design and Development, Customer Service, Marketing & Promotions, etc) in the power sports channel globally. I have been a part of Ogio Company for 10+ years, and specifically in my role since 2018. Prior to that I handled all international and co-branded sales for all Ogio bags categories.
A trip down memory lane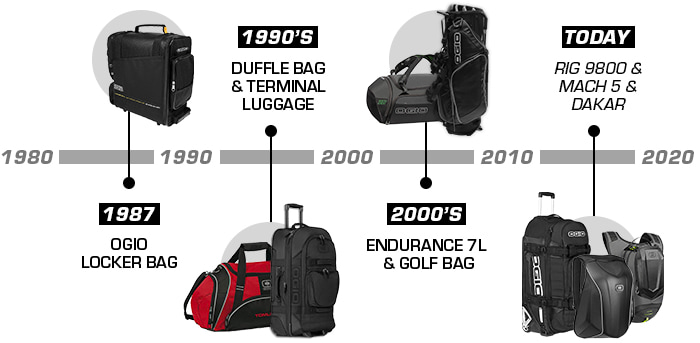 1987 : Ogio Locker Bag | 1990's : Duffle Bag, Terminal Luggage | 2000's : Endurance 7L, Golf Bags | Aujourd'hui : Rig 9800, Mach 5, Dakar
What is the OGIO history ?
Ogio was founded by Michael J. Pratt in 1987, when he launched a product called the Locker Bag. The bag was designed to fit perfectly into a gym locker and carried all your gear in an organized fashion. Power Sports was the 3rd category that Ogio entered in 1997 (Golf was the 2nd).
Mike and his family were passionate Off-Road enthusiasts. When he couldn't find a suitable gear bag to carry all their various items, he developed the Rig 9800 (the #1 off road gear bag ever made). The company develop and is now manufacturing bags for Almost every sports you can think of.
In early 2017 Callaway acquired Ogio International; this strategic fit was a match made in heaven combining both strong brands with a sports heritage that share a passion for creating high-quality, performance-driven products.
And this is how Ogio has become the leader of the bag industry that we know today, serving clients all around the globe and shipping its products internationally.
Ogio in the PowerSports Industry
Do you support athlete or initiative ?
Ogio probably sponsors more athletes than most any other brand in the power sports arena. We currently have 150+ athletes around the world that use Ogio bags in all different disciplines (Formula 1, MotoGP, Supercross, Superbike, Flat Track, etc.) and count most every Supercross champion for the past 4 years as an Ogio athlete. Through our global partnership with KTM, all KTM athletes in all moto disciplines use Ogio bags.
Our tagline, Transporting Champions, is something we don't take lightly.

What are the top 3 must-have products that OGIO manufactures today ?

Our top 3 selling bags globally are the Rig 9800 travel bag (soon to be replaced by the Rig 9800 PRO as the top selling bag), the Mach 5 Street Pack and the Dakar Hydration bag.

The Rig 9800 is the industry's most elite, fully loaded travel bag available. Durable construction and thoughtfully designed features make the Rig perfect for a trip to the track, a trek across the globe, and everything in between. Featuring a SLED (Structural Load Equalizing Deck) for increased durability and handling , a wide mouth LID opening for easy access to all gear and compartments, and IFOM (Intregated foam) for added gear protection, the Rig 9800 soon to be replaced by the Rig 9800 Pro, is the everyday bag all of us needs.

The Mach 5 Motorcycle Backpack with No Drag Technology has all the fixings of the Mach 3, with a serious upgrade. Use the removable, fleece-lined hip accessory pouch for extra carry room, the large main compartment with adjustable load dividers, and the deluxe organizer panel with stretch mesh dividers. For all the motorcyclists and powersports enthusiast the Mach 5 backpack is a no-brainer when it comes to his utility, ease of use and its water-resistance that will not deform from wind shear. But let's not forget the other main attracts that the Mach 5 provides. Featuring large pouches, you can carry your laptop, books and other thing you may need to keep you on the go all day long.

Packed with loads of hydration and storage space, the Dakar 3L Hydration Pack delivers streamlined organization in one easy-to-carry pack. Also, the Dakar bag features an insulated Cooler Fabric that keeps liquid cold for 30% longer, perfect for long walk, adventures in the wood or hour on your favorite PowerSport vehicle. Easy to fill and clean, the Dakkar 3L hydration Pack is the perfect bag for your activities keeping you thirst-free and active with no breaks.
What is coming in for the future ?
Great question for sure. We are planning 10 new products for the 2022 catalog – while I can't share specific details at the moment, we have a new patented, proprietary product coming to our street category that we cannot wait to launch.
What people need to remember regarding OGIO ?
Ogio prides itself on having a "Product is King" mindset. Our design and development team are all passionate about what they do, are enthusiasts themselves. We believe we make fantastic quality products, sell them at a fair price and stand behind what we make. We design and develop around 3 things (Protection, Organization, Comfort) :
P. How we Protect the things you are carrying.
O. How we Organize the bag so that you can find your items quickly and efficiently.
C. How we allow you to transport your things Comfortably.
Find out more about Ogio products on Kimpex's website.