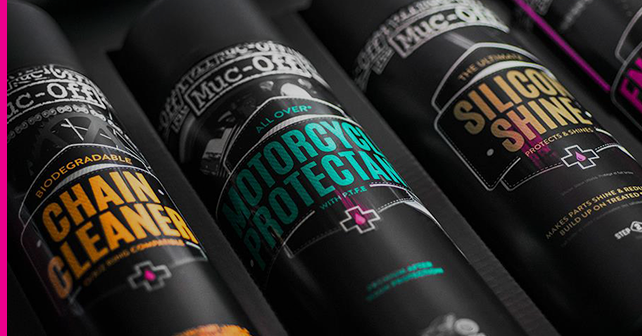 Finding products to maintain your motorcycleé is easy, but finding good efficient products is harder. Muc-Off, the British company with over 20 years of experience in innovative product design for the maintenance and protection for motorcycle is now available in Canada through Kimpex services.
Alexandre Dubois, motorcycle products specialist at Kimpex states:
"Muc-Off is already well-established in over 55 countries around the world. Their understanding of needs and trends make them a brand that sets itself apart from the competition. They have a strong presence in the industry and work only with the best teams and athletes!''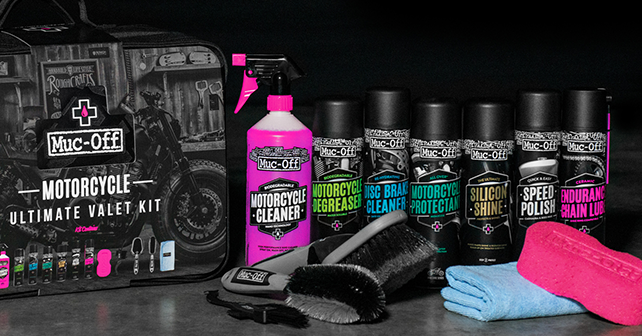 Muc-Off products.
What is even more impressive than their product design is that Muc-Off products are highly efficient. In addition, Muc-Off takes the environment to heart. Depending on the products and applications, Muc-Off products are 100% biodegradable and safe to use for all your motorcycle parts, including carbon fibre and mat finishing!
Nano Tech, the original cleanser designed to dissolve soil and dirt will return the WOW effect of your bike. 'THE' winning recipe which has been improved over the years by always being at the top! Muc-Off offers you three easy steps to keep your bikes shiny and new: Clean, Protect and Lubricate.
Among Muc-Off's products, here are some types of products available at www.Kimpex.com or the Kimpex retail network:
Maintenance products
Cleansers
Lubricants
Protective products
Cleaning brushes and pads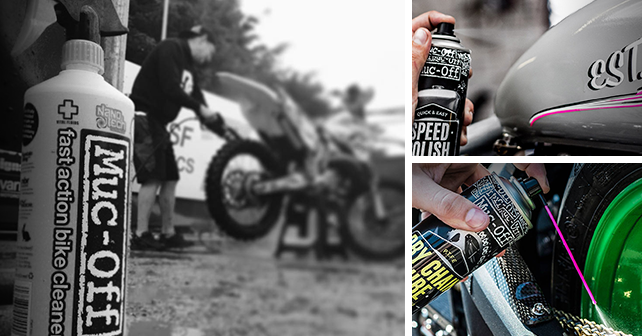 More specifically, their products contain the original Nano Tech cleanser, a chain cleaner, an all-purpose degreaser, a brake cleaner, special sponge, microfiber cloth and different brushes. The Muc-Off range of products take good care not only of your motorcycle, but also of the driver, with products such as the "Foam Fresh" cleanser for your helmet or the fabric protector "FabricProtect", used to waterproof leathers, suede and the fabrics of your gloves and boots.
Additional information on Muc-Off.
Muc-Off's story began in 1991 with two bicycle enthusiasts, Rex and Marilyn Trimnell. At that time, cleaning products on the market were mainly salt-based, which over time hindered the design of the components. So, with this in mind, they started to develop an eco-friendly and performance cleaner that would keep their equipment looking like new. With their new revolutionary formula, it did not take long for the name Muc-Off to spread and become an instant success. Designed initially for the bicycle and motocross, the company grew quickly in new markets such as that of the motorcycle and cars. Constantly evolving, Muc-OFF continues to develop new products and expand their playground. Thanks to Kimpex, it is now possible to get their many products in Canada.
Find the products at Kimpex.
Find all you are looking for such as cleaning products and much more at Kimpex. With its 2 distribution centres and over 50,000 products available, Kimpex is the Canadian leader in the distribution of parts and accessories for motorized sports. Located in Drummondville, Québec, the company has a network of more than 3000 retailers in Canada and the United States. Go to www.kimpex.com.


Discover other great products in the TEST section of Kimpex News.