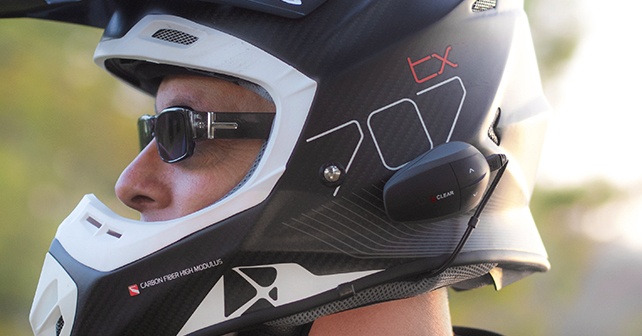 Way back in June, my media contact at Kimpex asked me if I would be interested in trying out the UCLEAR 100 PLUS Bluetooth headset while on my planned 3 week east coast adventure.
I was only too happy to give this system a try, eager to compare it to the system that I already have in place, the Sena SMH10.
So, without further ado, let's get down to the details.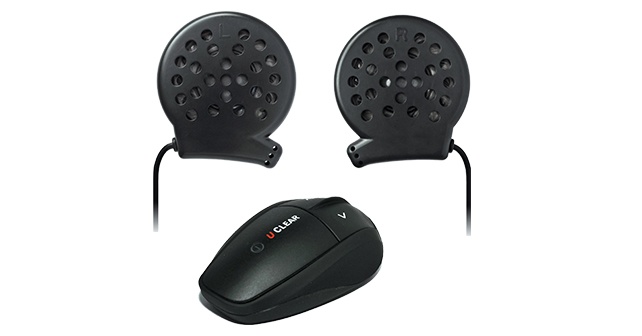 Installation of UCLEAR 100 PLUS
First off, the UCLEAR controller is noticeably more compact than many other controllers out there, and I also found it easier to use. A very simple, 3 button system – 'On', 'Up' and 'Down' - make the learning curve short and simple.
The unit attaches to the outside of your helmet using a sticky-tape mounting plate, and after more than 10,000 kilometers in every kind of weather, mine remains securely in place.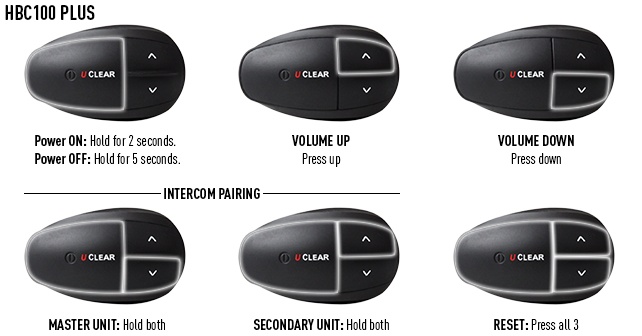 Pairing UCLEAR 100 PLUS
Pairing UCLEAR to UCLEAR is quick and simple, and most of my helmet time using this system was rather close-quarters, off-road and gravel road type riding.
In that setting, this system rocks. Myself and up to 3 other riding buddies who already had UCLEAR devices installed spent many hours riding together on forest trails and back country gravel roads this past summer, and I have to say that the UCLEAR 100 PLUS outperforms my Sena SMH10 for this kind of riding – mainly because I was able to get more than 12 hours of constantly open Bluetooth-channel communications with my buddies and the conversation was always clear and easily understood. The battery life is very, very good.
Rider to rider communication at short to medium distance = A+

UCLEAR 100 PLUS Music System
Ok, now what about as a music system, you ask? Well, paired to my iPhone, again, this little setup rocks! The volume is great, and the sound from the speakers is very good. The bass notes are decent and the high notes were likewise quite good. There was very little, if any distortion from the speakers – even at the highest volume setting, and that setting is too loud for me to listen to without ear plugs.
I can tell you this – riding my V-Strom 1000 at highway speeds, with foam earplugs in, I was still able to very comfortably listen to my playlist will cruising down the highway. And once again, the simple controls make it very easy to get used to quickly. A couple of quick presses of the power button starts your music playing. One quick press of the same button then stops the track. A couple of quick presses on the 'Up' button skips to next track; a couple of quick presses on the 'down' button plays the previous track. All pretty intuitive, really.
Music Player = A+

UCLEAR 100 PLUS Phone Calls
And what about phone calls, you now ask? Alas, this was an area where I was less than satisfied. Now, I should mention that the manufacturer makes it very clear in the instructions that you really – and I mean really! – have to pay attention during installation. It is imperative that the 2 microphones (there is a mic at the forward edge of each speaker) be on the same 'plane', or in perfect alignment. That is because the system works on the premise of triangulation, and if you are not careful during the installation process, it is very difficult for the person on the other end of the line to hear you.
I did my install on the road after a 12 hour day in the saddle. I was tired, and obviously did not pay enough attention to detail, as I am certain that I did not line my mics up properly. Further to that, I found that the phone communication volume would not go quite as loud as music volume, making it difficult to hear the callers voice at anything over 50km/h.
And finally, all of my testing was done using my Arai XD4 Adventure helmet. Not the quietest of helmets, by a long shot. So overall, my phone call communications experience was poor.
Cell Phone Comm's = C (likely better if more attention to the installation process is given by the user)
UCLEAR 100 PLUS Linking with other systems
Lastly, I did not find that the UCLEAR system played well with others. Pairing to a communications headset from another manufacturer was often quite difficult, and I had to give up the option of listening to my music if I wished to remain paired with the other unit. I was also unable to initiate conversations – that had to be done from the other system for some reason. It is possible that I did not have my UCLEAR configured correctly, but that comes down to ease of use – clearly not so, in my case.

Summary
All in all, I was quite pleased with the performance of the UCLEAR 100 PLUS Bluetooth helmet communications system when used with other UCLEAR devices and for listening to my playlist. The 100 PLUS also gets bonus points UCLEAR to UCLEAR pairing and overall ease of use (though a little extra care must is needed in installation) and for battery life. The 100 PLUS remains my go-to for use off-road and will remain affixed to my off-road helmet.
However, for long haul highway use, where phone calls and brand-to-brand pairing is important, the 100 PLUS does not hold up so well and in this context, and I will continue to rely upon my Sena SMH10.
However, there is one more very important point to make here: price!
The UCLEAR 100 Plus comes in at around $180.00 CDN, making it the perfect choice for small-group communicators where cell phone comm's are not the priority.
Joe