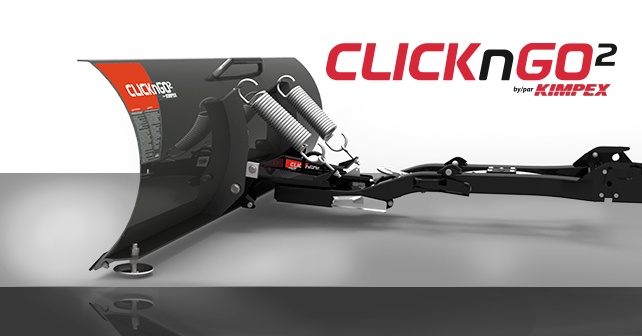 A revolution called Click N Go 2
Each and every year, when the wind is cooling and the rain is changing into snowflakes, the same question comes to our mind:
What am I doing this year? Will I shovel all winter long, will I buy a snowblower or will I hire a snow removal company to do it for me???
As of today, you will never ask those questions again.
A few years ago, Kimpex introduced in the market a snow plow for ATV installable in a couple of seconds and even easier to uninstall. It was awesome!!! But, wait… Kimpex managed to do it even better.
Let me introduce you to Click And Go's little sister, The Click And Go 2 ATV snow plow, the new generation!
http://youtu.be/znklqpMrwhs
What's better in this one you will say?
Here are some interesting features:
• This plow system can be installed on nearly every ATV models (with a winch installed and 4X4 ideally!!!) thanks to its universal mount system.
• It installs and uninstalls in less than 15 seconds.
• It is easily steerable by the use of the pivot pedal system
- We tested it and YES, 15 seconds is enough!!!
- Yes, you must get off the ATV to steer the plow, but no need to lean to do it only a foot and a hand needed!
• The plow can rise up to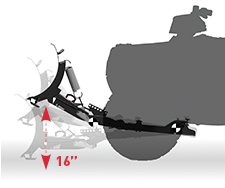 16 inches from the ground.
• Now available for side by side (UTV) vehicles
- Must use a different mount system (product number 374960 from Kimpex)
• Available plow sizes from 50 to 66 inches
• This ATV snowplow will make you want to plow every driveway in your neighborhood.
• It will even make you want to start your own snow removal company!!!
Imagine sitting on your quad, peacefully snowplowing your driveway while your neighbors are having a tough time shoveling the snow that you are easily removing…
Imagine all you can do when this wonder is installed on your ATV with Commander track kit equipped!
• Installation Video :
http://www.youtube.com/watch?v=kQpEdrjTd_Q
For more information on Click N Go 2 ATV snow plow, you can visit the official Click And Go 2 web page