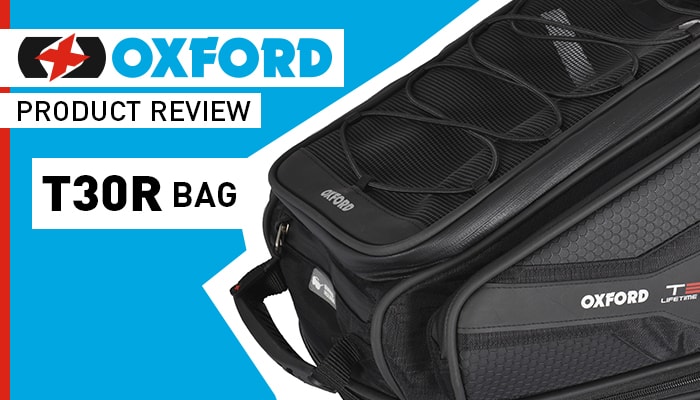 Oxford is a well-known leading manufacturer of high-performance accessories for motorcycles. Their bike bag family of products includes the T30R, an extremely versatile tail bag which can be easily mounted at the back of your motor bike.
Following a wide range of tests, we cannot but emphasize the excellent design, and many of the people who performed the tests pointed out how practical the Oxford T30R is. One feature in particular is its expandability which enables a 11 cm (4½ in.) capacity increase. Due to its rigid internal structure, the bag can retain a rigid shape, avoiding sloshing on the road. The bag includes several small pockets, one of which with fleece lining to store sunglasses or a smart phone; a stretchable net for extra storage on top of the bag is also included. Another significant feature is the shoulder straps that can help convert the T30R into a backpack. A waterproof pocket is provided to ensure that all your personal items will stay dry.

Additional webbing straps make the installation easier and even allow the bag to be locked on the bike. Rear footrest brackets, catch hooks and/or plate bracket can be used as secure mounting points. First installation would take about 10-15 minutes, and the bag can then be unzipped from the base within a few seconds.
I have no hesitation in recommending the Oxford T30R tailbag which is available in several colors at Kimpex.
Jacques Turgeon