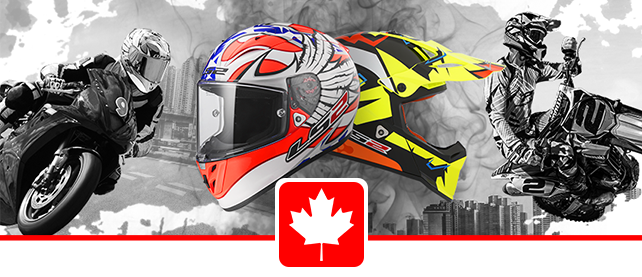 THE WORLD'S FASTEST GROWING BRAND
OF MOTORCYCLE HELMETS IS MOVING CLOSER TO CANADIANS!
Canadian motorcyclists can now communicate better with LS2.
Thanks to the brand's new Facebook page specifically
directed at the Canadian market.
June 2017 - Based in Barcelona, Spain, LS2 Helmets, famous all over the world for their extremely comfortable, highly technical and safe helmets, has just launched its very first Canadian Facebook page.
Since 2013, LS2 which manufactured over 2 million motorcycle helmets in the world has been selling in Canada through the distributor Kimpex Inc. Although the Canadian market penetration is constantly growing, LS2 wanted to get even closer to Canadian consumers in order to better understand them." The North American market is not the same as the European or Asian market. Just like the Canadian market is not the same as the American market. For this reason we wanted to split up our activities on Facebook by developing a page dedicated to Canadian motorcyclists! ", states LS2 founder Arthur Liao.
Managed by Kimpex, the LS2 Helmets Canada page will be subjected to the same standards of quality and performance as the pages directly administered by LS2. Kimpex's in-depth knowledge of the Canadian market is superior to what LS2 could have hoped for, and so a joint collaboration between the 2 companies was the natural thing to do.

To help the brand's recognition in Canada, LS2 has also launched the account @LS2.Helmets.Canada on Instagram.
There is no doubt that within a few weeks, true-blue motorcycle followers will be in the thousands viewing these Canadian pages.
Just stay tuned for a lot more marketing activities on LS2 in the months to come…
Join LS2 Helmets Canada
Facebook: www.facebook.com/LS2helmetscanada
Instagram: https://www.instagram.com/ls2.helmets.canada/
About LS2 Helmets
With its head office located in Barcelona, Spain, and warehouses in Europe, Asia and the United States, LS2 is everywhere on the planet. The manufacturing facility operated by the LS2 brand has been making helmets for over 20 years with a reputation in the industry for its quality designs and the value of its helmets. For the past 10 years, the company decided to launch its own brand of motorcycle helmets now known as the LS2. Five years later, LS2 is already the most popular selling brand in Europe. Today, LS2 is the fastest growing helmet brand in the world. For more information on LS2, please visit www.ls2helmets.com
About Kimpex
With hits 2 distribution centres (Drummondville in the East and Calgary in the West) and more than 86,000 products offered, Kimpex is the Canadian leader for the distribution of parts and accessories for motorized sports. Located in Drummondville, Québec, the company has a network of over 3000 retailers in Canada and the United States. In fact, Kimpex is celebrating in 2017 its 50 years of experience in the distribution of the industry's most prestigious brands.
Kimpex is the distributor of choice in Canada.
Visit www.kimpex.com