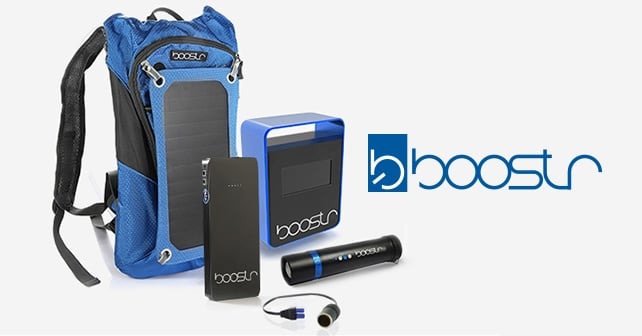 Powersports enthusiasts, never run out of energy! Again thanks to BOOSTR and Kimpex inc.!
Powersports and snowmobile fans, the BOOSTR team is extremely pleased to announce to you our partnership with Kimpex. Thanks to this exciting collaboration, BOOSTR's premium quality products are now available in all of Kimpex's 2500 dealer locations across Canada. With our tailored products, you will never be unprepared!
BOOSTR offers multifunctional jump starters, portable solar panels and other accessories that meet your needs while you're on the go, no matter where you are. Now you can go on excursions without ever worrying about running out of energy.
BOOSTR products adapt to your lifestyle and to your favourite sports. Not only can BOOSTR products quickly charge any electronic devices but they can also jumpstart off-road vehicles, cars, trucks, snowmobiles, bikes and boats.
Our portable jump starters offer unprecedented power. They are compact, easy to transport and built of high durability aluminum. In fact, only 1% of our product are returned. Needless to say, our users love their jump starters!

To ensure you are entirely satisfied, we offer 24/7 bilingual customer support and offer a 2-year warranty for all our products including a 30-day satisfaction guarantee or your money back. So what are you waiting for? Purchase your BOOSTR product during your next visit to a Kimpex dealer.
You too can join and take advantage of our growth across Canada and the United States!
Visit a Kimpex dealer, fill up on energy and experience BOOSTR!
About BOOSTR
Founded in 2014, BOOSTR is a 100% Quebec-owned company that has succeeded in establishing itself as a manufacturer and leader in portable renewable energy. Thanks to its reliable, high quality products and excellent customer service, BOOSTR has climbed to the top of its industry in a short period of time.
Boostr website
About Kimpex
With its two distribution centres and over 80,000 available products, Kimpex is the Canadian leader in the distribution of parts and accessories for motorized sports. Located in Drummondville, Quebec, the company has a network of more than 3,000 retailers in Canada and the United States. This year, Kimpex is celebrating its 50 years in the distribution of the most prestigious brands in the industry. Kimpex is the distributor of choice in Canada.
View www.kimpex.com