California based company PROTAPER signed an exclusive Canadian distribution agreement with powersports leader distributor Kimpex.
---
Drummondville, March 2017 - Distributed by Tucker Rocky in USA, ProTaper announces an exclusive agreement with Kimpex to improve its penetration of the Canadian market.
ProTaper's philosophy is guided by 3 big values, such as:
Innovation
Technology
Performance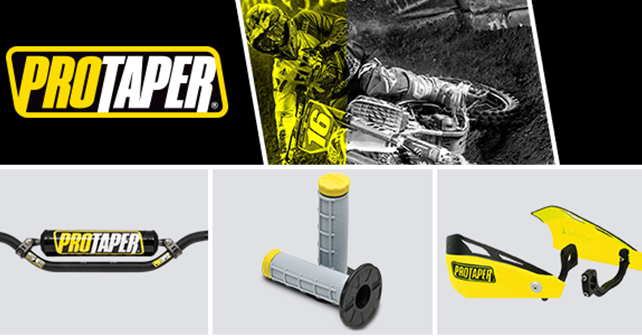 Innovation

Well known for its grips and handlebars, including the innovative 1-1/8" oversized handlebars or the Micro handlebar (the only handlebar that is fully developed for the small hands of young riders), the ProTaper brand is already extremely present in American or international races. Kimpex will now assure the growth of ProTaper in Canada.
Technology
The entire ProTaper line uses cutting-edge technology to develop the lightest, strongest products on the market.
« When great quality products fall into the hands of passionate people, whether you are a distributor, a retailer or a consumer, you easily fall in love with them; it's compulsive! This is the case with ProTaper. We are passionate about MX and we work with passionate retailers for equally passionate consumers. ProTaper products deliver the goods, so MX enthusiasts will feel it! » was reporting Bruno-Pier Pépin, Kimpex Marketing Analyst.
Performance
ProTaper products are used and endorsed by championship-winning race teams worldwide.
Just to add, more than 15 world-renowned athletes are among the users of ProTaper products including Gautier Paulin, Justin Barcia, Jason Anderson, Weston Peick and Zach Osborne to name just a few!
"I'm thrilled with the relationship we've formed with the Kimpex organization. They epitomize what all the things we look for when partnering with a distributor and I look forward to the success Kimpex and ProTaper will share in the Canadian market." – said Paul Perebijnos, ProTaper Brand Manager.
MX pros and amateurs will be pleased with the wide range of products offered by ProTaper via Kimpex this spring 2017.
ProTaper products are available on the Kimpex.com website
For MX fans, you will be able to see ProTaper products at Challenge Quebec events.
About PROTAPER
Since 1991 ProTaper has continued to produce some of the world's most premium control components available on the market today. We pride ourselves on providing an exciting, innovative and complete product line to fill the control and drive needs of today's serious racer to the average weekend rider. ProTaper continues to push the limits and re-invent the way we all experience riding our motorcycles.
About KIMPEX
With its two distribution centres and more than 50,000 available products, Kimpex is the Canadian leader in the distribution of parts and accessories for motorsports. Based in Drummondville, Quebec, the company has a network of more than 3000 retailers in Canada and the United States. Kimpex has some 50 years' experience in the distribution of the most prestigious brand products in the industry. Kimpex is the distributor of choice in Canada. Visit the website at www.kimpex.com.
Information
For more information about ProTaper products or KIMPEX distribution, contact Kimpex at communications@kimpex.com.