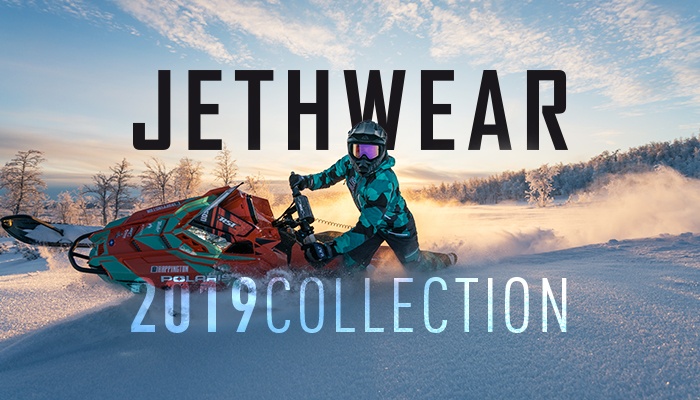 Launched into the snowmobile industry in 2013, Jethwear draws on the influences of other subcultures such as snowboarding, skiing, music and fashion and strives to provide consumers with premium products. Rooted in the free-thinking values of snowmobiles, Jethwear is the new independent clothing brand with a unique and original freeride perspective.
What's new for '19 ?
This year, Jethwear introduces two new jackets, the PHASE and the BURN as well as a new bib named PEMBY in their TEAM SERIES collection. Build the PHASE jacket bring a new trend in the Jethwear collection with a longer and narrower shape while the BURN one is shorter and wider. The phase jacket has a longer and a bit more slim fitted shape, while the burn jacket is a bit shorter and wider. Made from the same functional materials as their Freedom Suit. You'll find in both jacket waterproof seams and zippers, high intake vents, a kill switch D-ring, four outer pockets, a powder skirt and a detachable hood and their unique Powtec Ultra 20,000 mm.

Their new PEMBY bib pants have extra insulation at the knees and back and also uses their Powtec Ultra 20,000 mm. The new PEMBY bib has a slimmer fitted feel with Lycra stretch panels and adjustable suspenders. This will give you a more controlled feeling when riding close to the trees. The PEMBY is also equipped with a kill switch D-ring, boot gaiters and full-leg access zippers.

Introduced last year, Jethwear bring new colors into their now well-known women's one-piece from their W'S collection. Develop for snowmobilers with an aggressive riding. The FREEDOM one piece offers you comfort and, of course, freedom. He is also equipped with waterproof zippers and seams. Everything is wrapped in their Powtec Ultra 20,000 mm membrane.
Whether you are looking for a one-piece or a great jacket and bib combo, Jethwear have a large range of high-end products that will satisfy your needs. Check out their complete collection here.