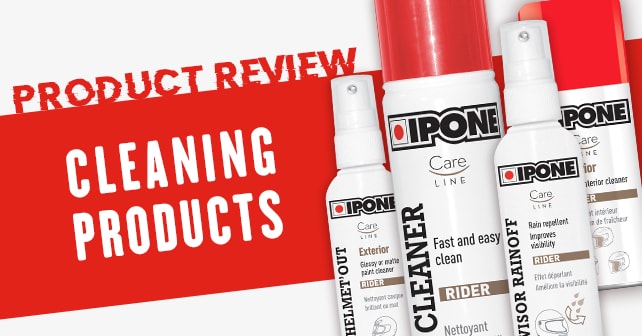 Kimpex asked me to test four IPONE products to be used for helmet and motorcycle gear maintenance. Here are my comments and recommendations.
IPONE Visor Rainoff (for your visor)
As the name implies, this product was designed to clean and protect your helmet's visor. It is mostly effective to clear impacts of insects and other dirt that usually build-up on the visor during motorbike or ATV ridings. The cleansing product leaves a thin protective film that allows the water to run off easily when you ride in rainy conditions. In addition to increasing visibility, the product is also essential from a safety point of view.
IPONE Helmet'Out (for your helmet)
This product makes it easy to clean your helmet's exterior shell. It cleans and protects the paint on your helmet so you can keep it longer. After spraying the product on your helmet, all you need is a cloth to wipe off insect impacts and dirt, bringing back shine and glossy look to your helmet.
IPONE Helmet'In (for your helmet's lining)
Are you looking for a product that does not require removing your helmet's lining for cleaning? The IPONE Helmet'In is the solution. It refreshes the inside of your helmet by removing build-ups of dirt and sweat residues. All you need to do is spray the foam inside your helmet, let it work for one hour, and then wipe off with a cloth. No need to say how much your helmet will benefit from this product.
IPONE Textile Cleaner (for your clothing)
We must take great care when washing our motorbike clothing as we must avoid damaging the technical fibres. IPONE Textile Cleaner helps you keep your coat and pants clean after each ride while protecting them. You need only spray the foam on the garment, use a small brush on areas where dirt is imbedded, and wipe. Your clothing keeps its shine so that you will not be have to go through a major cleaning.
For all those reasons, I would recommend you IPONE products in a heartbeat. I have been using them for many years and they have allowed me to keep my gear in good condition.
IPONE products are distributed by KIMPEX "Fueled by Fun!". You will find them at most motorcycle dealers as well as on the www.kimpex.com website.