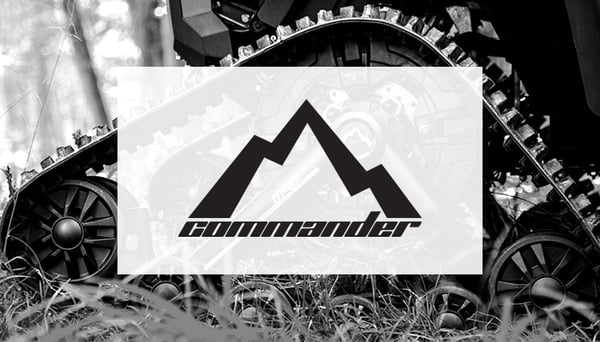 Commander introduces their very first track kit, known as the Wide Track. Perfect in snow, they are specially designed for winter conditions. The wide tracks and tread pattern provide excellent traction and manoeuvrability. Conveyed to dominate winter, they allow you to hit the trails and discover unknown territories without limits!
The New WTX Tracks
Like its predecessor the Wide Track, the WTX is intended for winter use. By adding distance between the edges, the traction device breaks less snow, adding the grip and manoeuvrability. Designed to reach new heights, they allow to excel & explore where no one has set foot before.

Development of the TREX2.0 Tracks
With the introduction of the TREX 2.0, Commander brought a whole new genre of four-season tracks to its product line. Optimal in extreme conditions, including mud and much more, these performances four-season tracks offer unparallelled traction. They feature a slide less design and universal internal traction sprocket for a better performance throughout the year. Equipped with these tracks, you can certainly confront Mother Nature head on.

TREX UTV
Commander adds to its line of four-season tracks, the first UTV tracks. Inspired by military and industrial track systems, the Trex UTV are ideal for year round use no matter the conditions : snow , mud, swamps, extreme terrain, etc. Offering nothing but a smooth ride, these tracks meet the needs of the meticulous worker, the performance addict and even the one who likes to keep up with the latest innovations. They will literally provide a sense of triumph on your UTV!

TREX 3.0x Tracks for Both Summer and Winter
Combining the best of both worlds, the new TREX 3.0x is based on the same structure as its predecessor the TREX 2.0 but with winter traction. Using a high-quality steel frame without slides for summer use and "paddle" type design tracks for maximum winter performance. These tracks are equipped to deal with four-season traction, developed for maximum performance in snow conditions.

Toughness and Performance With the XTR Tracks
A new generation of four-season Commander makes its debut: the XTR. Lighter, more agile and equipped with better traction, these new tracks are perfect for all types of terrain. Well researched, the "paddle" type tracks, for summer and winter peak performance, they are characterized, among others, for the oversized tubes known for their Robustness (while retaining the lightness weight necessary for use in snow deep).

Moving Forward With WS4 and WSS4 Tracks
The WS4 and WSS4 tracks are the logical evolution of our product line. They provide reduced driving effort, less vibration and just as much traction for mud, dirt and snow riding. They can count on new features such as a new sprocket, and an easy, quick to use HD tensioners and a new redesigned look.

COMMANDER track kits are everything you could wish for in terms of floatation, design and performance. Famous for their versatility and resistance, the COMMANDER track kits offer an unmatched traction no matter whether you are riding in snow, mud or any other type of terrain. Whether you prefer UTVs or ATVs, use it for work or for fun, the COMMANDER track kits will safely take you where you never thought of going with your tires.
COMMANDER, FOR THE POWER SPORTS ENTHUSIASTS, THE THRILL SEEKERS AND THE PERFECTIONISTS OF THIS WORLD.
Visit the Commander website to find out more information on their ATV and UTV tracks kit.