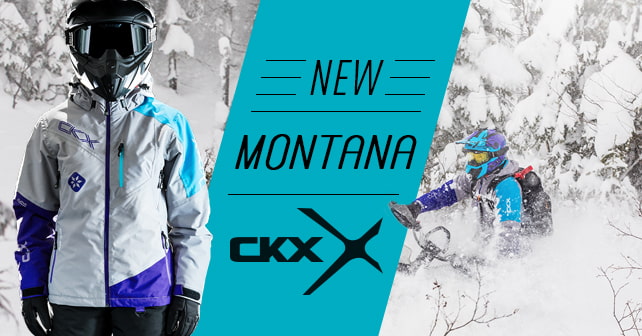 Always following the same co-creation process with their partners and ambassadors that
CKX have developed this year's new styles suited to a woman's figure. We present you the
Montana 3 in 1, a jacket with a versatility that will allow the snowmobiler to enjoy as many
trail rides as the sportier backcountry rides.

The Montana jacket was designed with the multi-layering system in mind. Tried and tested
for a long time in outdoor activities, this way of dressing is based on the adaptive principle
which adjusts to the physical activity and the desired warmth level. The Montana consists of
2 jackets which can be worn each on their own or layered one over the other for different
levels of warmth.

So first we have a lining, which is the intermediate layer and acts as an insulator. Worn on its
own, it's a light comfortable parka jacket ideal for the change in seasons. Worn under the
jacket, it provides a 120g Thermoshield liner, which will be added to the insulation of the
outer shell. For the bitter cold and long trail rides, the combination of the two is ideal. For
afternoons, when the temperature warms up or an increased intensity of physical activity,
just place the liner in its small pouch and put it in your backpack.


The snowmobiler is now equipped with the last layer, the outer shell. This shell is made of a
fabric with a membrane that will act as a soft and light shield. It is a breathing protection,
meaning it prevents water, snow and wind from getting through, but it will also allow body
moisture to be wicked away. Insulation is minimal at 60g which allows some activity without
getting too warm.

The Montana jacket is also available in the Zero insulation line. Please note that there is no
outer shell insulation at all in the Zero insulation line. The only protection is against water,
wind and snow. Zero insulation is more suitable for warmer temperatures.


In addition to the fabric's performance, the Montana's shell has all the practical features of a
garment dedicated to snowmobiling: from lateral ventilation and inside powder
skirt to adjustable tightening cuffs and the removable hem and hood. The jacket offers
several, easily accessible inside and outside pockets. For added safety, a D ring for
emergency switch is attached to the jacket's hem.

The outfit is completed with the Valey pants. The 100g ThermoshieId insulation liner,
adjustable straps and Cordura reinforcements ensure comfort, good fit and durability. Don't
let weather conditions dictate your riding habits. The Montana 3 in 1 and Valey pants adapts
to all conditions with style and performance.
Visit the Kimpex website here to find out more information about the Montana Jacket.