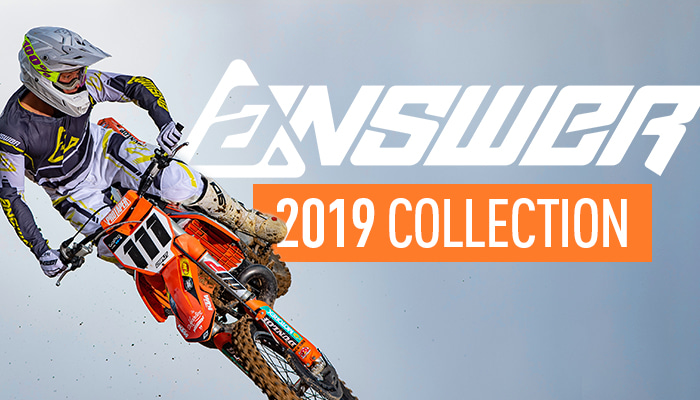 Back with a unique style, Answer is offering bright colours and very attractive designs that will please many in their 2019 Collection. You will find more understated designs and colours as well, for those of you who want to maintain a neutral style.
Answer's different product lines will be appealing to serious racers as much as they are to ''weekend warriors.'' Answer Racing started in 1976 with the goal to provide motocross enthusiasts with products they can trust. Today, Answer Racing has not lost sight of their original vision, and puts more than 40 years of experience into every product they design, as can be seen in their new collections, year after year.
Trinity
The Trinity collection is the highest-quality line amongst those offered by Answer.
Utilizing over 40 years of experience and research, Answer has truly met their initial
objective to design the lightest, most comfortable and best performing gear set on the
market.
Features:
- Minimalistic, spandex stretch neck panel
- Tailored fit and lightweight
- Welded cuff openings with Spandex darts to help maintain shape
- Multi-layer stretch nylon knee panels
- Durable polyester seat panel
- Drum-dyed and de-bossed leather inner knee panels
- Mesh lower leg panel allows for unobstructed air flow
- Adjustable internal waist fitting system
- Double and triple stitching throughout


See availability here.






Elite
The Elite line was designed to have the perfect combination of fit and function at a mid-level
price point. An all-new fit, high-performance materials and hi-end features makes this a
must have for any rider to keep at hand
Features:
- High performance lightweight waffle polyester fabric
- Waffle poly fabric cuffs offer unrestricted fit
- Extra-long tail section
- Genuine leather inner knee panels to resist burns from hot exhaust
- Flexible rubber knee, fly and leg patches
- Padded knee area
- Dual side adjusters for optimal fit


See availability here.





Syncron and Syncron Flow
If you are looking for performance race wear at an affordable price, then look no further.
Syncron line has been designed in cooperation with the best professional athletes to
provide a high-performance outfit.

Keeping the same style, Answer's Syncron line is also offered in the Flow/Air version, but
they are made from mesh fabrics to allow for optimal ventilation.

Features:
- Performance moisture wicking fabrics
- Stretch polyester cuffs
- Extra-Long tail section
- Tiny-hole perforated mesh-fabric to increase airflow
- Durable poly-oxford fabric construction throughout
- Flexible knee, fly, yoke and leg patches
- Padded knee area