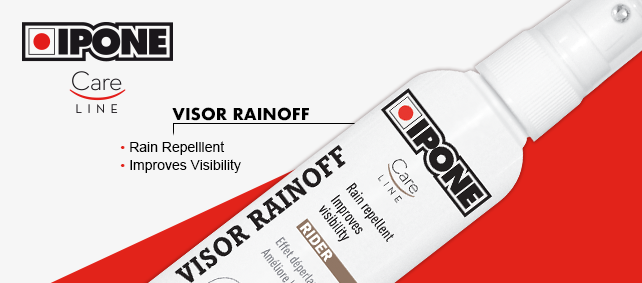 Today, I present you three products to clean your helmet. The first one is for your visor, the second for the outer shell and the last one on the inside of your helmet. Since 1985, IPONE specializes in high-quality products like oil and cleaning products related to recreational vehicles. They are also producing some product for the automobile market.
The first product is applied directly to the visor of your helmet and creates a clear protective layer on it. It allows you to have a lens that is easier to keep clean. It is also interesting to note that the bug and the dirt don't stick on it and become easier to remove. You almost need to simply turn your head to the left and right to make them disappear when you ride. The same principle goes with the rain. With the thin ''Rainoff'' layer on your lens, the rain disciples herself off the lens and ensure you an excellent visibility.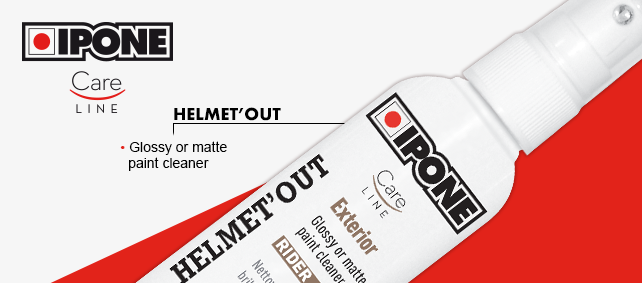 The second one is a cleaner for the outside of your helmet. When you wash your helmet for the first time, the various debris, dirt and even insects are hard to get rid of. This product helps you and softens bugs, dirt and others, making cleaning easier for you. They are therefore easier to remove while leaving your helmet in remarkable condition. With this outer shell cleaner, your helmet will always remain beautiful and clean.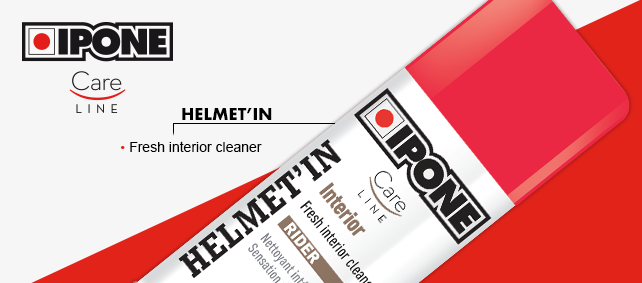 The third one is a product to clean the inside of your helmet. After several rides in the hot summer temperatures, it is possible to sweat a little in your helmet, especially during urban riding. With multiple traffic lights, a couple of stops signs and traffic don't help your cause. It may not be at the end of your ride that you will find unpleasant odours but maybe some days later. By using the cleaner, you will be able to keep the inside of your helmet fresh and ready for your next ride.
All of those products are distributed by KIMPEX and you can find them on the www.kimpex.com website or in your favourite dealer. You can also find out more information on the different IPONE products on the www.ipone.com website.