A newcomer in Yamaha line-up
Yamaha made a big jump by introducing the 2016 YXZ 1000R! Yamaha defines it as; the only real sport side by side! The beast is equipped with a 3 -cylinder 998cc engine. It provides a very interesting power despite the naturally aspirated engine. Furthermore, the side by side is fitted with a 5-speed sequential shift manual transmission, a premiere in the industry!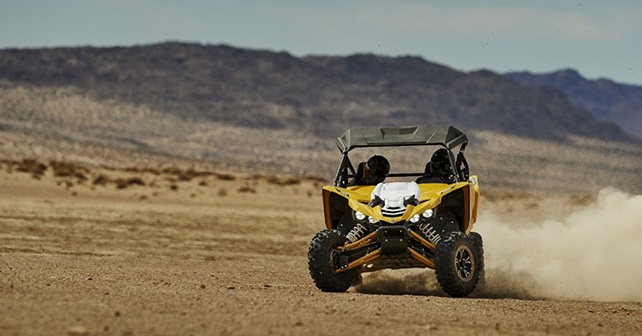 YXZ 1000R a different engine in an aggressive market
The side by side market is very aggressive. Each year, Polaris, BRP and Arctic Cat enhance the level and offers adult toys always more powerful! In recent years, there has been a power war in the side by side market. This war is felt by the arrival of BRP and Polaris turbocharged engines. However, Yamaha has not opted for this type of engine.
Power + handling + comfort + reliability = YXZ 1000R
Yamaha seems to have opted for the pleasure of driving, handling, comfort and reliability. Indeed, Yamaha is known for his legendary reliability and durability. Again, we will not be disappointed since the YXZ 1000R offers a natural aspiration engine and thus probably a more reliable engine than its turbocharged brothers. Although, this does not mean the Yamaha will not be powerful! It is estimated that it produce 112 horsepower, not too bad for a non- turbocharged 3 cylinders engine! Moreover, YXZ 1000R will be equipped with Fox Poduim Rc2 suspensions. As in the motocross world, Yamaha places great importance to his vehicle suspension!
So there it is a new player in the sporting SxS family! For more information on this model visit UTV Planet website: 2016 YXZ 1000R - Complete Review!