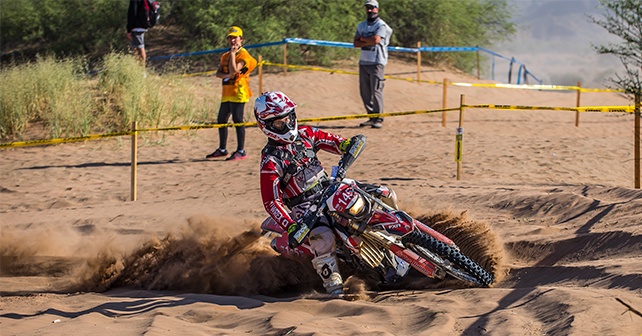 When racing 1200 kilometers across the desert you need to have parts on your motorcycle that you are confident are going to outlast the elements. While building my ISDE (International Six Days Enduro) race bike, I had the opportunity to try out a company that most of you are familiar with called ZETA. ZETA has managed to bring you high quality products that are strong and durable along with making sure your bike is looking its best. The products are made from high quality aluminium and often CNC machined to bring you great lines that seemingly pop out when your friends are checking out your bike. Many of the products are small items, but can make a big difference when it comes down to it. Following along as I walk through many of the products I used when racing for Team Canada.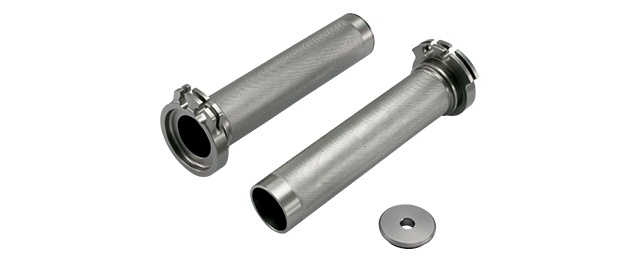 Zeta Aluminum Throttle Tube
Depending on your style of riding, this throttle tube can change your entire riding experience. Now I know that seems like a little over the top statement, but I am a very specific details rider. This throttle tube has tapered inner walls which keeps a consistent gap between the bar and the tub. With less contact between the two, you have less friction which means a really consistent and smooth pull. I like that! (You should too!) In addition the ZETA throttle tube has a removable end cap with allows you to run a set of hand guards to protect your fingers. The removable end cap allows you to keep the same throttle tub throughout the year as you don't have to get a new tube every time you decide to take your handguards off. One of my favorite bits is that it looks a lot cleaner than the cut you made with a hacksaw to your plastic tube (we have all done it before…).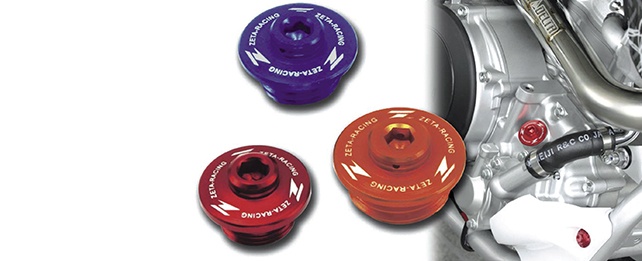 Oil Filler Cap
This is an interesting topic. You may think that an oil fill cap is not a big deal, but think about it like this. What does your motor need to run? Oil. What is holding your oil in your motor? All metal parts except usually a small plastic oil fill plug. When you are riding what elements can break that plastic piece off and drain your motor of all its oil? Pretty much all of it. For the small chance of it actually happening I prefer to spend a few bucks to replace the plastic plug with a metal one. A cheap piece of mind.

Magnetic Drain Bolt
Even though this bolt comes in a variety of different colors you often cannot see your drain bolt under your motor. Fortunately there is much more than good looks to this bolt. In addition to holding all of your oil in the motor, the press fit magnet on the end of the plug collects any metal that is floating around in your motor. Metal floating around your motor can be detrimental and even the smallest amount will shorten the lifespan of your motor. When I build my six days motor I lucked out by having this bolt in as I accidentally dropped my steel ball bearing from my clutch actuator in the bottom of the motor. As a last resort I pulled the plug to see if it would drain through the oil and wouldn't you know, magnetized to my bolt was the steel ball bearing. This saved me having to split the cases on a brand new motor!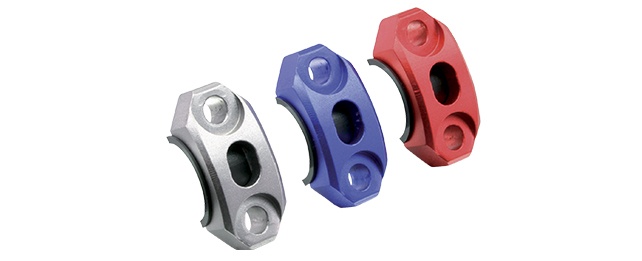 Rotating Bar Clamp
There is a fine line when torqueing your perch so that it rotates on impact. To tight and it will break the leaver if you fall. To loose and it will fall lower and lower until you have the worst arm pump of all time. The ZETA rotating bar clamp is a simple bolt on piece that helps solve the equation. The clamp comes with a nylon sleeve that you insert between the clamp and your bar which will allow the perch to rotate on impact without falling down when you're out tearing it up. Again, just one less thing to think about when you are 5th gear wide open.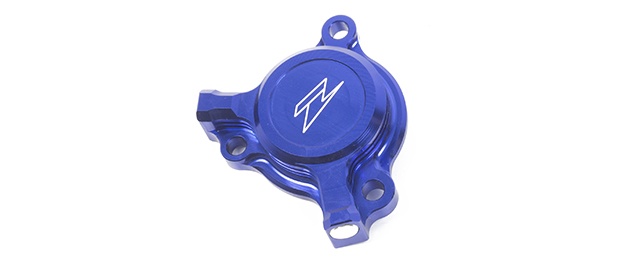 Oil Filter Cover
If you're looking to add a little style to your ride, this is a great looking part that will pop out to the human eye. The additional functionalities of the cover are that it has built in cooling fins that aid with heat dissipation as well as it is slightly lighter than a stock cover.
Brake line Clamp
You know how you are supposed to match your shoes and belt color? Well this the belt to your ZETA Oil Filter Cover. This clamp adds a sense of style to your fork guard and functionally is stronger than the stock set up.

Rear Brake Clevis
This is another part that aids in the feel/control of your rear brake pedal. What I like about this product is that the pin and clevis has very small clearances eliminating a lot of the sloppy loose feeling of a worn out stock set up. After some hours on your stock clevis it can begin to oval out and add slop to your brake system. Another added piece of mind is that it comes with a stainless steel pin which you know will be much stronger in the long run.
To learn more about ZETA products, click here.
To learn more about Kimpex products, click here.
To read my other blog posts, click here.