Some love them, some hate them, some collect them, and some keep the same one for way too long; but helmets are a fact of life in Canada, love 'em or not.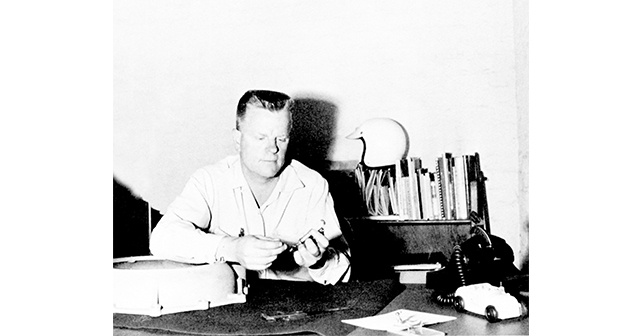 Anyone who's done any helmet shopping at all will have realized in rather short order that no matter what style, color, or price range of helmets you shop in, Bell is going to be represented by probably more than one model. They've been building helmets since 1954, and it's safe to say that Roy Richter's company has set the standard on multiple occasions. Today, Bell is represented in the motorsports industry by a current lineup of more than 20 different models of power sport helmets, in dozens of colors, not to mention their line of cycling helmets as well. Bell helmets are as safe, reliable, and advanced as it gets, and really- they always have been.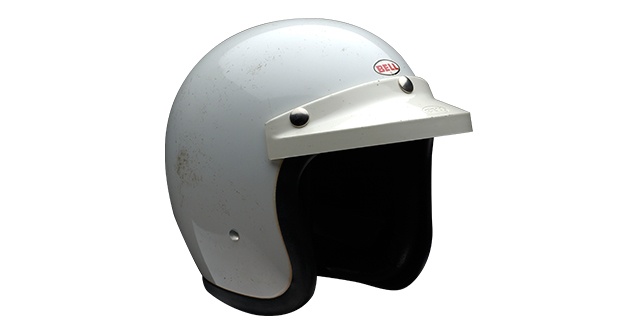 In 1954 most motorcyclists weren't required to use a helmet during public roadway riding, so Bell focused on auto racing- it's what got Roy started in helmets in the first place. After the death of a close friend in 1946, Richter made a commitment to create products that would make racing safer. His first helmet, the "500", arrived in 1954, and when in 1955 Cal Niday crashed wearing a Bell helmet in the Indy 500- he credited his headgear with saving him from even more serious injury. In the same year, Bell supplied the Los Angeles Police Department with helmets for its motor officers.. on the way to supplying more than 800 Police Departments worldwide. Safe to say, the cornerstone of the Bell Helmets legacy was laid
That first "500" wasn't so much unlike what we cover our craniums with nowadays, though. The original was what we now call a ¾ helmet, or an open-face ¾. Similar to current models, it had a fibreglass shell, with a "non-resilient" polystyrene liner, a basic concept of construction that continues today- when it's right, it's right, right? Right. Naturally, the materials were less complex at the time, the shapes were simpler, less "wind tunnel tested" and more common sense. The 500 pictured in the top photograph (first on the left) doesn't look terribly different from the current model, although the protection level has gone up considerably. That 3-snap visor is one of the most-imitated (and best-thought-out) visor attachment methods ever conceived! There were a few color options, and if you wanted to get crazy you could snap on a different colored visor, or even run without one, but that was about the limit of the options available. Helmets were hand laid and sewn, finished individually, and tested by use, ensuring the quality of the product remained high.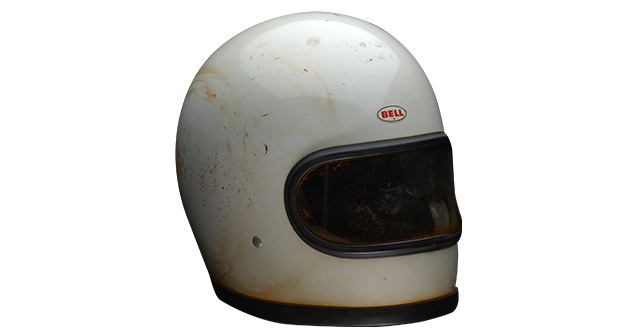 However, Roy wasn't one to rest on his laurels, continuing research and development right through his career. In 1966, Bell debuted the first full-face helmet for auto racing, the Star, and in 1971 Bell offered the world's first full-face motorcycle helmets for on-and-off-road use. Although initially rumored to cause high speed impact decapitation, the full-face concept was rapidly proven to be highly effective.
The Star helmet (third from the right, at top) might not be all wind-tunnel-tested-hotness in its original form, but the leap forward in rider protection was undeniable, and Bell has carried on to create many of the world's favorite full-faced helmets. The Star reminds many of science fiction helmets, with its narrow slot viewport and symmetrical "cigar end" shape, but those who wore it recognized the benefit of covering more fragile human in an effort to reduce injury, and those same features carried forward into the following models. Again, though, you didn't have a lot of options other than color and size however the techniques for construction had become well established, and the consistent quality that Bell has always stood for was entrenched already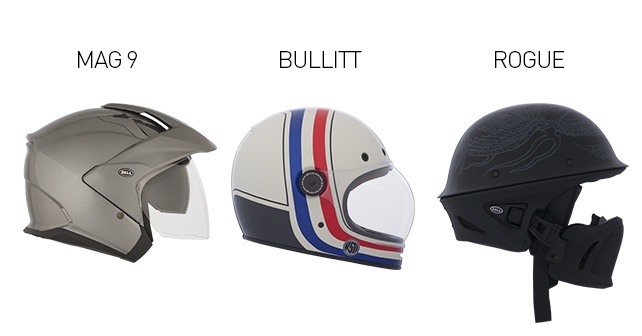 The evolution continued, and now has come full circle, with the re-release of the iconic 500 series and the memory-inducing Bullitt, radical new styles such as the Rogue with removable muzzle, and the Mag-9 that is configurable in more than a dozen wearable configurations from full-face modular down to open faced helmet- all with the capability of integrating communications electronics practically invisibly.
Testing and quality controls are more stringent now than ever, and Bell's "Dome" R&D/Design facility leads the way in testing and innovation, more often setting the standards than meeting them. You've heard it said that "one helmet's as good as another", but in the Bell lineup, that's exactly true- all Bell helmets are tested to destruction multiple times before release, and they really ARE equally high quality.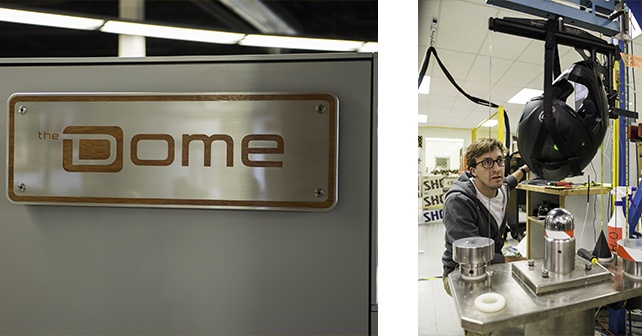 Bell's mantra of being "purpose built" has spread beyond motor sports into cycling, boating, and beyond. Current models feature computer aided design, lighter, more durable shells, and easier to care for interiors. More than just colors and sizes, today's Bell shopper can choose from a wealth of styles like open-face, full-face, or hybrid, different venting systems, visors, and even communication capability options built right in to the helmet. Cycling helmets feature the MIPS slip-plane system that protects against rotational impacts, and new safety and protection features are being tested on a regular basis.
We're a long way from 1954… and Bell's a long way from where it started, but the basic tenet has not changed… maintaining safety so that insane things are made possible.