Iain Hayden Prevails at FIM Snowcross Championship in Sweden.
In what was called one of the "gnarliest editions of the FIM Snowcross World Championship ever", Team Rockstar Energy Polaris Racing's Iain Hayden prevailed in a field of elite Swedish, Norwegian, and Finnish drivers as the only non-Scandinavian to finish in the top-10 club.
Hayden, who has previous snowcross racing experience in major European events, did Canada proud in Älvsbyn, Sweden this past weekend every time he graced the track on a brand new stock Polaris IQ 600.
In timed practice sessions on Friday, the seasoned veteran ran only two seconds off the mod-mounted frontrunners' pace. In his Group 1 qualifying heat on Saturday—one of two heats that had 20 drivers vying for no less than a ninth place finish in order to advance to the final—Hayden secured an eighth place at the checkered flag.
In front of an estimated 5,000 spectators, boisterously cheering on their various country's favourite drivers, racing proved to be intense on Saturday in the barnburner 15 min + 2 laps final. In a lineup featuring the top 20 qualified drivers, all on the front row—motocross style—Hayden got off to a midpack start. Although he just managed to dodge a major first-turn pileup, it cost the seven-time Canadian National Champion plenty of positions. He found himself near last, before he could start pouring on the gas.
Hayden proceeded to pull out all the stops to make up ground, picking off driver after driver to eventually cross the finish line in 10th place, just six seconds behind winner Marcus Ogemar-Hellgren of Sweden. With Nisse Kjellström, also of Sweden, Polaris Racing claimed runner-up in the one-event world title chase.
"I didn't get the result I was looking for, but overall I was pretty happy with the whole weekend. We also proved that you can competitively run a stock Polaris against guys racing mod sleds in a high profile snowcross," Hayden said. "I want to thank all our sponsors plus the entire Swedish crew Leif, Tok-Lasse (Crazy Larse), Tommy, and Willie for their valuable assistance, Willie's grandmother, Liisa, for all the great cooking, and everyone else that came and helped out. It's always a real pleasure to come and race here and I look forward to repaying the favour."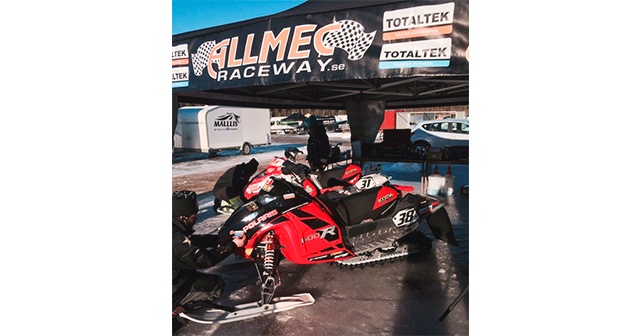 Hayden's teammate, Dylan Hall, left with a truckload of memories of his first time racing in Europe: some good, some not so good! The up-and-coming Rockstar Energy Polaris Racing star unfortunately did not qualify for the final, due to events totally beyond his control.
Hall blew a track in practice Saturday morning, which left his mechanics under an hour to find a replacement track in order for him to line up for the Group 1 qualifying heat. Time wasn't on Hall's side and he had to sit out the qualifier, with the LCQ his only chance to advance to the final.
In the LCQ Hall had a good jump off the start, but in the crush a driver next to him leaned on Hall. This resulted in Hall's tether cord being pulled off, killing the motor. Undaunted by this misfortune, Hall quickly restarted his IQ 600 but found himself dead last. In an all-out catch-up race, he finished seventh. But with only the top two drivers going to the final, Hall's racing day was over.
"It was not how I envisioned my weekend, to say the least. But in the final analysis it was just an example of 'anything can happen at the races' and you deal with it. Regardless of the outcome, I was proud to be on the Rockstar Energy Polaris Racing team at this prestigious event and would like to thank everybody involved, both from Canada's side and Sweden, for making this possible," Hall said. "On Friday I was asked by the FIM to do a camera lap of the circuit for the Youth Stream Snowcross website, which was not only pretty cool to be able to do that for such a big organization, but an honour."
Follow Dylan Hall on his creaming red Polaris IQ, as he takes a GoPro tour of the 890 m (2,219 ft) Älvsbyn circuit, which he noted was much bigger than back home, with +1 minute lap times. "It's adapted to a completely different style of racing we're used to in North America. It's like motocross but with snowmobiles. You can't sprint the whole race. Your sled won't last if you do that. It was a lot different not racing with any studs in the sled's track and the circuit was really icy, so it was tricky. You really had to flow through corners and around the whole circuit."
Click here for a view of the circuit: https://www.youtube.com/watch?v=8SZnKnP6kjw
Results – FIM Snowcross World Championship
1.Marcus Ogemar-Hellgren (SWE); 2.Nisse Kjellström (SWE); 3.Filip Eriksson (SWE); 4.Viktor Herten (FIN); 5.Oskar Norum (SWE); 6.Johan Eriksson (SWE); 7.Petter Narsa (SWE); 8.Alexander Berglund (SWE); 9.Peter Ericson (SWE); 10. Ian Hayden (CAN).
About Rockstar: Rockstar Energy Drink is designed for those who lead active lifestyles – from Athletes to Rockstars. Available in over 20 flavors at convenience and grocery outlets in over 30 countries, Rockstar supports the Rockstar lifestyle across the globe through Action Sports, Motor Sports, and Live Music. For more information visit: www.RockstarEnergy.com
Find us at: www.facebook.com/RockstarCanada ~ www.twitter.com/Rockstar69CAN ~ www.instagram.com/rockstarenergycanada ~ www.YouTube.com/Rockstar