It never fails, as soon as I come in contact with a fellow UTV enthusiast, the first question which is dropped is: "But really what is the best UTV on the market?" Then I reciprocate with: "Well that depends, what will you be using it for and what's your riding style?" Then after a long detailed discussion, it always boils down to: "Well what's your favorite?"
I usually elude that question, since we all have our riding styles and what I deem as "AWESOME" may not necessarily be the case for you! BUT!
However before I do, you must understand the type of rider I am and what type of riding I truly enjoy. I don't really consider myself a member of the "go-fast" crowd, as I don't have that perpetual thirst for speed. Nonetheless my units of choice always fall into the sports / performance category since they offer, in my opinion, the best performance levels out on the trails. By performance I am not necessarily talking about acceleration, but more along the lines of power/torque and agility.
I am a trail rider at heart and have a craving for trails which can offer me a challenge. I am always looking for units which give me a "fighting chance" to concur any obstacle that may lie ahead on the trails. Important key factors for me are power/torque/transmission (power to the ground), suspension/ground clearance and steering/handling. Creature comforts (ingress/egress, cockpit ergonomics, seating and storage) also all play an important factor, not just for me but for any trail riding enthusiast.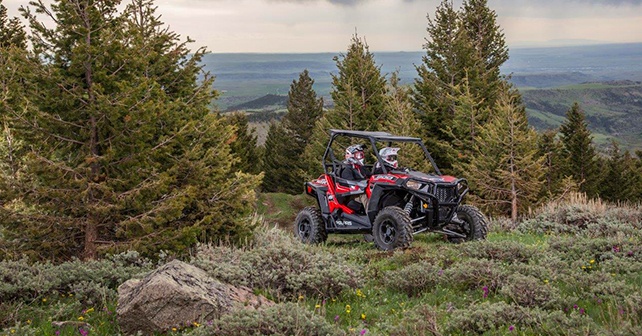 So considering these factors and my personal preferences, my number one (#1) pick for model year 2015 had to be the Polaris RZR S 900. Out of the box, the RZR S 900 is a high performance trail machine: it features exceptional power-to-weight ratio, suspension performance and unmatched agility. Creature comforts, trail ready track width and assertive styling are all on the menu. After field-testing the unit for 2 days in Utah, it is without a doubt that the RZR S 900 has proven itself as an exceptional replacement for its "best selling" predecessor the RZR 800 S.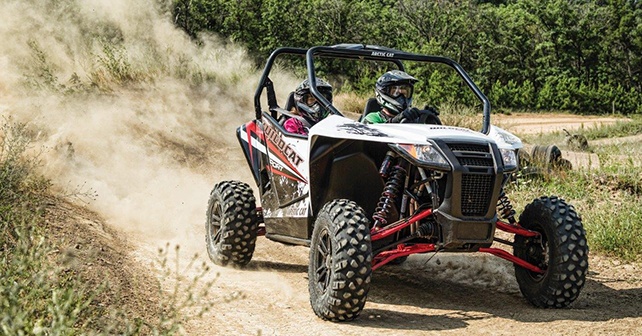 My number two (#2) pick for model year model 2015 goes to Arctic Cat for its new sports model, the Wildcat Sport. I was never a big fan of the original Wildcat as a trail rider, I found the original Wildcat more adapted to desert/dune environments. However the Wildcat Sport is a different Cat altogether and easily stacks up in the sports/performance category. After two days of intense riding this unit out in Utah, I feel the engineering team of Arctic Cat can be praised for what they have accomplished with the Wildcat Sport. The 60-plus horsepower, 700 cc parallel-twin engine felt very responsive and although the horsepower is lower than the Polaris RZR S 900, the unit is lighter so the power-to-weight ratio is close. The suspension performance, ground clearance and agility are very much on par and contribute for an exceptional riding experience.
In spite of my profound passion for trail riding, I must admit that as of late I have developed a new appetite for the dunes. I just completed my 2nd trip to Glamis Imperial Sand Dunes and riding the dunes took UTV off-roading to a whole new level for me. The best way I can describe the experience is, remember when you where a kid playing in your sand box with your Tonka trucks? Well amp that up by 100%!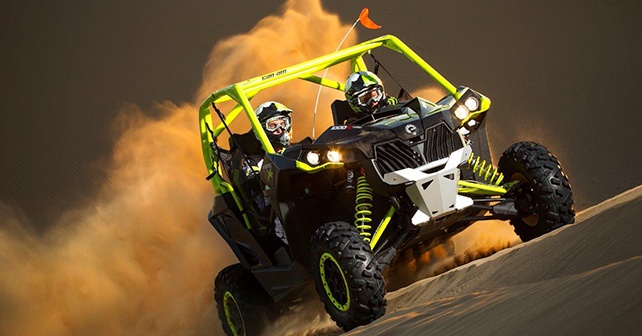 Due to my newfound infatuation, my number three (#3) pick for model year 2015, the Can-Am Maverick X ds Turbo. The Maverick X ds Turbo was introduced in early September and BRP raised the bar with the first factory installed turbocharger (121-hp). After two days of shaking down the Maverick Turbo in Glamis, it became evident that Maverick X ds Turbo delivers exceptional torque and throttle response that any duner will long for. Combine this to an innovative handling package (featuring longer wheelbase, redesigned TTA independent rear suspension, improved A-arm front suspension, exclusive FOX shocks and new quick-ratio steering) plus the superior fit and finish we all expect from Can-Am and you end up with a "dune monster" right out of the box.
Well there you have it, my top 3 UTV picks for 2015. Agree / disagree? Shoot me an email, always interested in reader views and opinions.
In closing, I would like to take this opportunity to wish you the joy of family, the gift of friends, and the best of everything in 2015. Enjoy the ride and be safe!
Mario Boriassi
Editor-in-Chief