(Featuring Test Dummy MP Jobin)

For their second test, the L.E.A.P. professionals decided to truly test the limits of a Win-Tec Escape Jacket … in their own way!

Having spent several minutes of preparation, the D day finally arrived! Dr. Sheehy and special guest MP Jobin spent the entire day performing tests involving wind, mud and condiments, with an explosive twist. Read the entire article to discover what was done with a $36 budget.
Test 1 | Wind Resistance: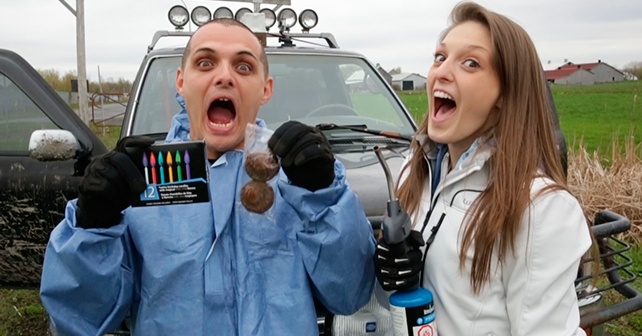 Ridiculous Human Blow Test:
Goal: To discover whether a candle flame can resist MP Jobin's blow through the Win-Tec jacket.
Results: Obviously, besides MP Jobin dizzy spell due to blowing too hard, the candle flame did not go out.
Semi-Ridiculous Industrial Fan Test:
Goal: To determine whether the candle can resist the various wind speeds of an industrial fan through the wind-stopper Win-Tec Jacket.
Results: Surprisingly, not even after 3 wind intensities, the candle still remained a light. Meanwhile, MP Jobin is slowly recovering from her dizzy spell.
Crazy Wind Resistance Test:
Process: After artistically cutting out a piece of the Win-Tec Jacket's membrane, our test dummy, MP Jobin, and Dr. Sheehy cemented the membrane to the official test box and inserted a candle in it.
Goal: Successfully borrow Marco's 1993 Toyota LandCruiser, to go crazy nuts out in the middle of nowhere. This, the perfect opportunity to test our official test box, attaching it to the top of the truck to determine at which wind speeds the wind will pass through the Win-Tec membrane to blow out the candle flame.
Results: 30Km/h: NO PROBLEMO!! (It may be difficult to see, but it was in fact still alight)
50Km/h: OMG! She's still burning. Still hard to see on the video, but still alight.
70km/h: NOOoooo! She's out.
*69Km/h: Maximum speed before the candle went out.
**Shhhht! Not a word to Marco, please.
Test 2 | Stain Resistance: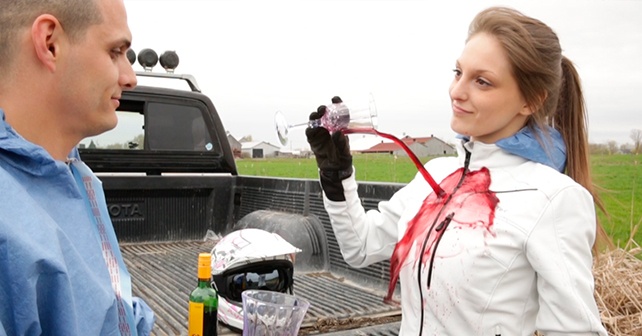 Ridiculous Red Wine Test:
Goal: How will the Win-Tec Jacket react to a Red Wine oopsy?
Results: Wow! Would you look at that, not only 1 but 2 glasses of wine and it just beaded off the jacket.
Oh, Dr. Sheehy you are so clumsy!!
Semi-Ridiculous Condiment Test
Goal: Cover the Win-Tec Jacket in condiments to see how it tolerates the stains after washing. (Mustard, Ketchup, Relish)
Results: After washing the Win-Tec jacket, it came out relatively stain-free.
Note: To minimise the chances of staining, we took the time to rinse and scrub the jacket with little delay exactly as recommended by the manufacturer. Unfortunately, this footage has been cut off for the final version of the video
*Caution certain elements permanently stain the jacket, such as chain grease. Yes, we definitely tried it!
Crazy MUD Test:
Goal: Can the Win-Tec Jacket withstand an extreme tsunami of mud?
Results: After the passing wave of both an ATV and Marco's 1993 Toyota LandCruiser, (please not a word to Marco) the jacket was completely immersed in MUD.
Note: No, MP Jobin did not really go through a washing cycle, although this would have been really funny.
On the other hand, we did wash the jacket, as mentioned in the condiment stain resistance test, and it came out perfectly clean!
Ultra-Crazy Extreme Paintball Test:
Goal: We decided to test the jacket's resistance to a paintball attack, cuz you never know when it may happen…
Results: Yes, after a wash, the jacket remains white! Taking a closer look at the jacket, we noticed that membrane had slightly stretched on impact which could affect the windproof and water resistant performances of the jacket.
Note: Yes, MP Jobin's chest was well protected with the use of body armour under the jacket. We have kind of a conscience!
*Please note, this jacket was clearly not intended for Paintball use. It was exclusively to abuse it!
Test 3 | Water Repellant:
Semi- Ridiculous Fire Hose Test:
Goal: Will our test dummy MP Jobin remain dry despite Dr. Sheehy's attempts to put out the 'invisible' fire?
Results: Success! While, the outer layer is totally soaked, the inner layer remains bone dry.
Conclusion
The Win-Tec Jacket successfully passed the majority of our tests (wind, water and mud) and was relatively easy to wash. Keep mind the more it is washed, the less resistant it will become.
Marco never knew that we took his 1993 Toyota LandCruiser!
Please, don't try this at home…. your friend's home, your neighbor's home or anywhere else. We are proud to declare that the Win-Tec jacket has been officially L.E.A.P. Tested!